I'm particularly excited about reviewing the OhMiBod Esca 2 today for a variety of reasons. First off, it's a female-owned sex based company that's been at the forefront of the ever-increasing relationship between sex toys and electronics.
They were the people who originally made "the iPod vibrator" which could vibrate to the beat and rhythm of any particular song.
Secondly, they're aggressively sex positive, with one of their design philosophies being that their toys should be approachable and not cause feelings of embarrassment. Anyone who knows me knows I'm a big fan of some good old fashioned sexual liberation.
Now, let's get into the meat and potatoes of this review!
OhMiBod has come a long way since their original iPod vibrator, now they're partnered with sex tech giant Kiiroo to deliver a wearable vibrator with loads of added functions, up to and including Bluetooth connectivity.
OUR TOP PICK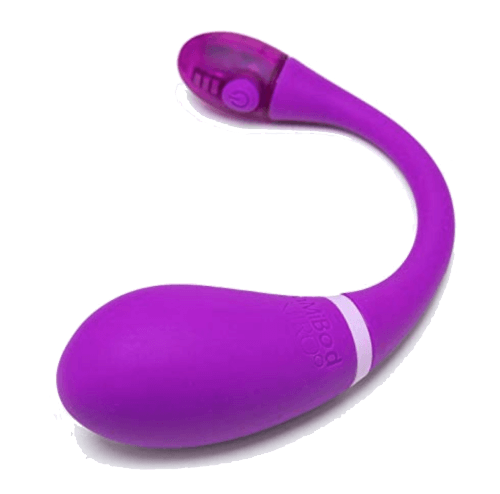 The Esca 2 was rated the "Best Interactive Pleasure Product of 2020".
FEATURES:
Comes with a strong motor that makes this egg vibrator stand on its own
Remote control features are extremely well developed and can be manipulated easily
Get your own
OhMiBod Esca 2
and use
DRCLIMAX
code at checkout for an extra 15% off
This app controlled vibrator is perfect for long distance couples since it can be controlled from anywhere in the world that has a connection to the internet.
The OhMiBod Esca 2 is playful looking, has more than enough different settings to keep even the most fickle of lovers entertained, and a battery life of 3-4 hours. That's more or less double what just about every other rechargeable app-controlled toy out there has in total usage time.
I found the deep purple color of the Esca to be quite visually appealing, but honestly who really cares about the color. The functionality and orgasm potential is what really matters!
Most importantly, the Esca 2 on the higher settings provides strong vibrations to the g-spot capable of bringing even the most difficult to satisfy vagina to orgasm.
Design & Specs
The business end of the vibrator is constructed from 100% body-safe silicone while the LED light-up bulb at the end is made from what I assume to be ABS plastic. The main bulb of the Esca 2 functions as the end that's meant to vibrate for intense pleasure while the rest of the toy houses the antenna portion to send and receive signals. There is a small portion on the end of the antenna bulb that can be bent to fit right on the clitoris for targeted stimulation.
At its widest point, the Esca is 1.3'' in diameter while the whole length of the toy is 7.3''. The portion that's insertable is a small fraction of that, somewhere in the realm of 2''-3''.
The Esca was designed to be a Bluetooth enabled wearable vibrator, so if you're looking for penetrative, in-and-out style stimulation are much better served by a vibe like the Nora (by Lovense) or the Pearl 2 (by Kiiroo) if you'd like that but still keep all of the remote control features.
What's excellent is that this wearable g-spot vibrator can also be paired with any Bluetooth enabled Kiiroo-affiliated device: Pearl 2, Onyx 2 (by Kiiroo), the Launch (by Fleshlight), or the Fuse (by OhMiBod), this means that long distance sex isn't a one-way street thanks to these toys.
How It Works
When the OhMiBod Esca 2 is paired to another sex toy, the other toy will be the one calling the shots as opposed to the Esca 2. OhMiBod appears to be trying to win over my heart pretty hard at this rate. The real kicker? It's working. Connectivity can be maintained so long as you're within 26 feet of the vibrator.
No remote is present for this vibrator, to get the most out of this toy you'll need an Android or iOS device with the OhMiBod Remote app. While the smartphone app is simple to use, manual modes are also available for those who'd rather not get their phone involved in their sex life, there are four different options ranging from continuous vibration to some more playful patterns.
When the device is connected via Bluetooth, you have the option to customize the light & power settings to get the most out of each charge. Either use 100% power & 100% light, 50% power & 100% light, or 100% power and 0% light.
Be careful come cleaning time, as the Esca 2 is merely splash proof instead of waterproof. That means use water sparingly and take extra care to make sure that no water finds its way into the charging port.
What Comes In The Box?
If you purchase this vibe from OhMiBod (which I would highly recommend since you'll get the best price), you will receive the following:
Honestly, pretty standard stuff inside the box. Not much more than what you'd expect when buying a wearable vibe.
The Difference Between The Esca 2 & The Original
One the biggest upgrades for the Esca 2 compared to the original Esca is the battery. The biggest complaint out there about the original Esca was about the fact that the life of the battery was just a smidgen under what someone could reasonably expect from similar vibrators. They've doubled down on the battery since then, there's 3-4 hours of use for every 1.5-2 hours of charge. As a side note, the first thing you should do after getting this product is plug it in and charge it fully, OhMiBod themselves recommends this course of action. It's the perfect opportunity to download the app and check out all of its features before you dive into the fun stuff. Not that you'd want or even could use it while charging, it's still worth noting that the toy won't vibrate whatsoever while charging.
Here's a handy video review that explains many of the intricacies of the Esca 2:
Use coupon code "DRCLIMAX" for an extra 15% off!
Now that we're past the nitty-gritty, let's get a little randy.
How To Use It
Using The Buttons
Step 1:

To turn on the Esca 2, simply press and hold the button on the tail of the vibrator for a few seconds. The LED light will begin to flash indicating that your vibe is ready to use.

Step 2:

Press the button one more time and your Esca will enter the first vibration mode and it will begin to vibrate.

Step 3:

You can press the button again to cycle through the vibration settings. There are 2 main patterns and 3 intensity levels.

Step 4:

When you're finished and would like to turn the vibe off, simply hold the button again like you did to turn it on.
Using The App
My preferred way to control the Esca is by using either the OhMiBod Remote or FeelConnect app. However, the OhMiBod Remote 2.0 app is the winner of the two since it's much more user friendly.
After all, it is an app-controlled wearable vibrator, so I'd definitely advise using your phone to control it.
The main reason I prefer using the OhMiBod Remote app is because it allows for more control over the settings and vibration patterns. Also, depending on my situation, I can let my partner control the toy from a distance or I can use it for solo play. When my husband is away, we love using long distance sex toys to keep each other satisfied and the Esca 2 is one of the toys we use most often due to it's simple to use settings and strong vibration patterns.
The Esca 2 never fails to bring this girl to orgasm.
The vibrator connects to any phone via Bluetooth or Wifi as long as you've downloaded the OhMiBod smartphone app.
Here's how it works:
Step 1:

First, open up the app and sync the vibe to your smartphone.

Step 2:

From here you'll be able to choose from various patterns, increase the intensity, or even sync the device with music. You're also able to connect with your partners toy from anywhere in the world (provided you both have a Wifi connection).

Step 3:

You can also control the vibration intensity by using the volume buttons on your phone.

Step 4:

Keep track of your orgasm count by using the Oh!dometer inside the app. This is your very own orgasm log which is a unique feature to OhMiBod products.
I personally found the application very easy to use and much more efficient than using the button on the vibe itself. The only issue I have with it was that sometimes when I'm trying to connect my phone to the device, it's a bit difficult. However, I'm quite technically inept, so this might be my fault.
Within the OhMiBod app there are 4 different modes; Rhythm, Tap, Touch and my personal favorite Club Mode.
Here's a brief description of each individual mode:
This mode allows you to select from different patterns such as Crashing Waves, The Moon, Club, Deep & Steady, Intense & Fast & Ludicrous.
Many of these names are descriptive while others like "The Moon" make very little sense. Rhythm is nice if you'd like to do minimal finicking around within the app.
I use this mode quite often since it's very easy to use and allows for a wide range of different vaginal vibrations.
Tap is pretty great for partnered play and is very user friendly. My husband & I use the Tap mode quite often.
It allows you to control the speed of the vibrations using the dial above the button on the screen and while holding the "Tap" button, your Esca 2 will vibrate. It works great for edging your partner closer and closer to an orgasm. It's pretty self-explanatory and there really isn't much to it.
That being said, it's a fantastic way to edge your partner to orgasm (I speak from experience when I say this).
---
This mode is probably my least favorite out of the four. It only really allows you to control the intensity and doesn't give you much control over the vibration pattern itself.
To use this mode you simply hold your finger on the screen. If you bring your finger towards the bottom of the four quadrants, the vibe will slow down in intensity and if you bring your finger towards the top of the screen it will increase the intensity.
The vibration patterns of the four quadrants are slightly different.
My main complaint with Touch mode is that it's not the easiest to control and also because you have to keep your finger on the screen of your smartphone if you want the Esca 2 to vibrate.
---
The Club Vibe mode is my favorite out of the four available.
You're able to sync your Esca 2 vibrations to the beat of any song. Simply turn on your favorite tune (high bass songs work best) and tap the microphone button inside the app.
You're able to control the sensitivity of your phones microphone (all the way turned up works best) as well as the intensity of the vibrations.
This mode is awesome because of the randomness and also the fact that you really don't have to do anything except choose your favorite song. You don't have to listen to music either, you can also watch your favorite adult film and sync the vibrations to the sound of the people in the video (the more moaning and dirty talk the better).
My Experience Using It
I bought my OhMiBod Esca 2 from the official Kiiroo website since they're the manufacturers and offered the best price. You can save an extra 15% off by using coupon code "DRCLIMAX" at checkout, which I took full advantage of (thank you, OhMiBod).
After placing my order, I received my package from OhMiBod a few days later (their shipping was very fast compared to other retailers). The box was very discreet and there's really no way you'd know it was a vibrator/sex toy. It came in a plain brown unmarked cardboard box with a shipping label which wasn't suspicious at all. Discreet packaging isn't a huge concern of ours since I'm pretty confident our mail man is well aware of how many sex toys we own (thanks to companies with less than discreet packages).
Upon opening the box I was greeted with the purple OhMiBod Esca 2, a usb charger, a cute white satin carrying pouch, an authenticity card, a setup manual as well as an instruction manual.
Needless to say, I wasted no time charging it and testing it thoroughly. I skipped the setup and instruction manuals since it's pretty self explanatory how to use most vibes like this one.
After testing the absolute the cr*p out of this thing, I'm ready to share everything I've learned about the Esca 2.
My first tip is when lubing up the vibe before use, focus only on lubricating the portion that'll be inserted, there's no need to lubricate past the plastic band that separates the main body of the vibe from the antenna.
I'm aware that a portion of my readers aren't particularly enthused by having to get their phones out just to enjoy their toys, so I'll go over the manual modes first. The device starts in Bluetooth mode, so you'll have to cycle through the three Bluetooth options after you turn the toy on by holding the power button for about four seconds.
You'll know when you hit manual mode when the device begins continuously vibrating in your hand. From there, three more button presses covers the other 3 manual modes with 1 final push starts the cycle from the beginning at Bluetooth mode.
The silicone is smooth and slips in effortlessly, place your fingers just behind the separation band for easy insertion. The toy scrapes at the G-spot in a deviously teasing fashion, this causes me to wiggle around a little as I moan in delight in the hopes I'll get another swipe past my sweet spots.
For reference sake, the 1.3'' diameter is smaller than the typical vibrator by about 0.1''-0.2'' in total which means minimal discomfort even during longer sessions, those dedicated enough could probably get through an entire 3-4 hour charge cycle without feeling stretched out.
The continuous vibration mode that it starts off on is a low to medium setting, it isn't what I'd consider the main course of the toy but those who are extremely sensitive might appreciate this mode more than I do.
From there, it goes to a stronger setting that I usually use for the majority of my time, I find it is right at the level of intensity where each the sensation is still gentle enough for the intricacies of the vibrations to be felt without "contaminating" itself by going too strongly. The third setting is the strongest and its really a sight to behold. It stops shy of the Lush (by Lovense) in total intensity, probably somewhere in the realm of 90% of the Lush's total possible output.
As bad as it might seem to be #2 in maximum intensity, many people including myself have found that there are some toys that prove that there can be too much of a good thing. Whether or not you can tolerate the speed of the final setting is a personal preference. The final manual setting sends pulses of vibrations through the toy at a rate of a little under one full cycle per second.
The motor on the OhMiBod Esca 2 is quite strong on the higher settings, which is a huge plus in my opinion. Many wearable vibrators I've tried lack the intensity to bring me to orgasm, however, the Esca 2 motor is strong enough to get the job done with ease.
Now for Bluetooth mode, which allows for control of the vibrations through either a continuous touch, by tapping, or by picking from a handful of presets that are a lot more specialized than what's offered with manual mode. The app also comes with a fitness training style tracking application, except instead of recording your bench press stats you're able to record your orgasms. Also included is a chat client with picture sharing capabilities so enjoying long distance sex doesn't involve constantly going to and from the app just to communicate. The range of sensations and patterns is staggering, to the point where you might as well call them infinite due to the infinite number of variations you can create.
I don't mind using my phone with this particular toy since it's wearable, I can apply lube and then towel off my hands without worrying my phone will leave the room with more lube on it than the toy had. My husband and I also tried it as a couple's vibrator in which it is used during sex, we found it less than ideal for that purpose but its an okay indicator if you're thinking about a couple's vibrator but aren't quite sure if you want to bite the bullet on that decision.
The long battery life is absolutely stellar, I can't say enough good things about being able to use the toy for at least three hours before even having to consider finding the charger.
All in all, my experience was comfortable, offered a premier masturbatory experience, and surprisingly long-lived.
Where I Bought Mine
Since they have a partnership with Kiiroo, this toy is offered on both websites. However, I highly recommend the official Kiiroo website for reasons I'm about to explain.
Their shipping policies make for an inexpensive and quick experience, plus you'll be able to make use of the coupon below to save some extra scratch:
By using the coupon "DRCLIMAX" at checkout, you'll be entitled to 15% off your order.
Click here to redeem discount!
Since they've been in the business for so long and been featured in so many different publications, it was just a matter of time before Chinese knockoffs started to hit the market. This product is particularly susceptible to knock-offs for whatever reason, I suppose the design is a perfect fit for the machines already owned by counterfeiters. That's why you should only buy sex toys from trusted retailers, ideally straight from the manufacturer's website. Gambling with knockoff sex toys could mean gambling with your health, since there will be no oversight as to whether or not the vibrator is truly made from body-safe silicone or just an imitator.
Parting Words
Those looking for a dependable vibrator that has enough mettle to make itself known all while making long distance control a possibility should look no further than the Esca 2. One main benefit it has over its competitors is that the power button does a nice job as working as a clitoral stimulator since a bit of the vibrating power will be able to channel itself to the end of the toy.
I came, my husband came, we all came.
Anyways, that's all I got for y'all.
If you made it this far and have gotten any value from reading this review, I'd like to kindly ask that you consider clicking our affiliate link if you are thinking about or have decided you're going to purchase the Esca 2.
We make a small commission for referring you and it costs you nothing (you can still use coupon code "DRCLIMAX" to save 15% off). We don't make very much but every commission we make helps fund this website since we try to re-invest the majority of the amount we make from this website into buying and testing new toys.
We owe it to readers like you for clicking our affiliate links before making a purchase, because it's how we afford buying toys like the Esca 2.
This sex toy testing "hobby" of ours has cost us thousands of dollars over the years and it's only been made possible by our readers.
Thank you for even taking the time to read this far, it means a lot more than you know to me and my husband that people actually read our content.
Leave any comments or questions you have down below and I'll reply as quickly as I can!