Are you looking for a male masturbator that will do 99% of the work for you?
The Kiiroo Onyx 2 is a unique male masturbator which takes all of the manual stimulation out of using a male masturbator.
The Onyx 2 has built-in motors which massage your penis in a very satisfying way. Just insert your penis, press the button and let the Onyx 2 take care of the rest.
Gone are the days of stroking your penis manually, the Onyx 2 can do it a lot better than you can.
The Kiiroo Onyx 2 is a single unit that contains both the Fleshlight Superskin sleeve as well as all of the mechanical goodies required for stimulating the penis.
It's a fully automatic masturbator, as in all you need to do is insert and press play and the rest is handled by the toy itself.
No effort is required on your part besides that required to keep your manhood fully inserted and trust me, you'll be in for a wild ride.
Kiiroo is an interesting company as far as business relationships go, they're one of the few non-Fleshlight brands that utilize Fleshlight's proprietary Superskin material.
They make what they describe as luxury brand sex toys, but I'd primarily consider them to be a technology company as opposed to a sex toy company. They brought the tech-savvy, Fleshlight brought the sex savvy.
The Launch is a great example of this partnership, it was a device you could thread your Fleshlight into and it would move it up and down however you'd enjoy most.
Kiiroo has decided to go down a different road when it comes to the Onyx 2, however.
The Kiiroo Onyx2 is a totally unique male masturbator. Not in its design, as it resembles many other products I've used like Fleshlights, but in the experience it provides.
After using the Onyx 2 my penis is absolutely addicted to how the inside of it feels when the toy is turned on. When I'm balls deep inside this toy, it's very difficult for me to last more than a minute without cumming, regardless of the setting I'm using.
The Kiiroo Onyx 2 has gotten a ton of praise both in the media but also more importantly by people who actually bought it. It's worth checking out the verified customer reviews at Kiiroo, if you'd like to see for yourself what users have said about it.
Anyways, here's what I thought about the Onyx 2.
REVIEW SUMMARY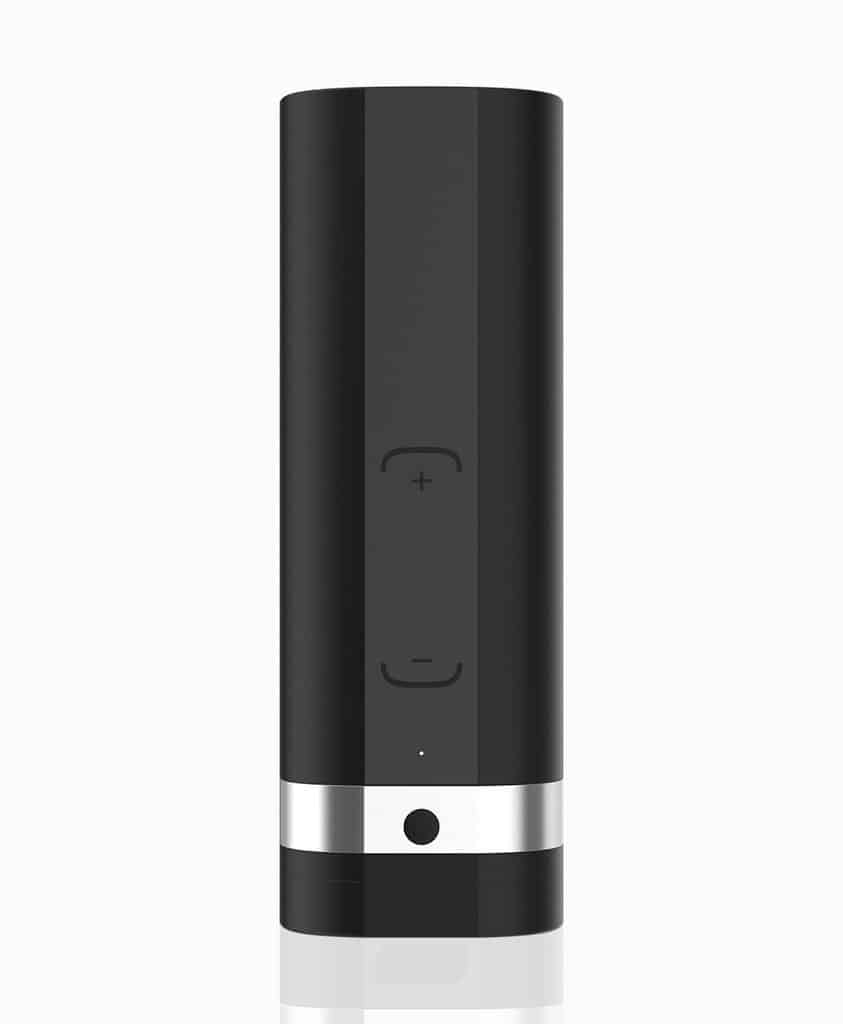 Kiiroo Onyx 2
The Kiiroo Onyx 2 is much more powerful than other masturbators currently on the market.
FEATURES:
It has built-in motors with 10 contracting rings that massage your penis in a very satisfying way.
It's a fully automatic male masturbator
It syncs to VR porn to mimic what's on screen
Get your own Kiiroo Onyx and save 10% off at checkout
CLAIM YOUR DISCOUNT →
Get your own Kiiroo Onyx 2 and get a 10% off using our link
Now, let's get into my full Kiiroo Onyx 2 review...
Specs & Design
As the name implies, the Kiiroo Onyx 2 is the second iteration of the Onyx male masturbator. It's been called everything from a blowjob machine to automated sex to anything in between, that's mostly marketing speak. In simplest terms possible, its a mechanical vibrator with a Fleshlight sleeve. I've never touched an original Onyx, but according to what I've read online they fixed issues with how the sleeve fits in the device, battery life, and few other touch-ups here and there. According to users, the original Onyx apparently had a few key design flaws which Kiiroo has since fixed with the new and improved Onyx2 version of the toy.
Let's get some technical stuff out of the way. The exterior of the Onyx 2 is constructed out of ABS and POM plastics, so the device is quite lightweight overall, no more than a kilogram at best. Its size dimensions are 3.5''x 3.1'' x 10.3'', making it modestly large size but still easy enough to get your hands around comfortably. The semi-rounded edges of the case make for a relaxed hand-feel. As far as insertable length is concerned we're working with 16.5cm or about 6.5'' of room inside the device, while it is accommodating as far as girth is concerned the particularly well-endowed lengthwise might want to seek out one of Kiiroo's larger toys. That being said, size shouldn't a huge concern, unless you're over 7 inches.
The Onyx 2 is powered by a lithium battery with approximately 1 hour of total usage time (depends on which settings you choose) for every 4-6 hours of charge time. The ratio of charge to use isn't spectacular, but I found that the hour it does work is worth the wait.
How Does It Work?
What drew me to this toy was the idea of completely abandoning any need to move the toy myself and let modern technology take the reins of my masturbatory experience. The Onyx 2 is the only masturbation machine which claims to be a "penis milker" that doesn't look like you risk having your Johnson sheared right off with it.
The term "penis milking" is pretty silly in my opinion, but there's really only so many ways to get the idea across that the Onyx does all the work for you.
Here's a short visual demonstration that displays how the Kiiroo Onyx 2 works:
The motor inside functions to contract several joints throughout the device in an undulating stroking motion that provide up to 140 strokes per minute, or a little over two strokes per second. There are individual rings that the motor manipulates to compliment the soft, minimally textured sleeve. The sleeve inside is made from Superskin material, the exact same blend used in Fleshlight toys. I really can't say enough good things about Superskin, it feel incredible.
I don't know how they managed to team up with Fleshlight as Kiiroo seems to be a distinct company based out of Amsterdam, but I'd consider it to be a match made in heaven. They've managed to build quite a lot of power into such a lightweight device. Fleshlight & Kiiroo have set the bar quite high as far as automatic male masturbators go.
The Kiiroo Onyx 2 is much more powerful than other masturbators currently on the market.
The added bells and whistles of the Onyx 2 is that it's compatible with virtual reality and even without a VR headset can be synced up to porn videos as well as the motion of its female counterpart, the Pearl by Kiiroo (which you can connect to and play with a partner by using the Feel Connect app). There are currently even a few pornographic games that are encoded to work with the Onyx 2, so I'd say it's a fairly big leap forward in the interactive sex department.
To take advantage of the Bluetooth capabilities, simply download the Feel Connect app from either the Google Play store, Android or Apple app store and you're off the the races.
There are two main modes you can use with this device, Bluetooth mode and Manual mode.
When you turn on the Onyx 2, the light on the front of the toy will be a blue color, which this means the Onyx 2 is in Bluetooth mode. This is the mode you'll use if you're trying to connect to a partner, or to pair your Onyx to interactive content. The fact that the Onyx 2 is Bluetooth compatible is a huge perk in my opinion. It makes it a great option for partnered play.
If you press the button on the front of the Onyx while the toy is turned on, the light will turn purple indicating that it's in Manual mode. You're able to control the speed of the strokes by stroking up or down on the touch pad (it goes pretty fast at the highest setting). You can also press the button once more and it will speed up and the pattern of the strokes will become more random (this is what I do when I'm about to finish). The touch controls make controlling the speed of the toy very easy.
My Experience Using The Kiiroo Onyx 2
The main reason I bought the Kiiroo Onyx 2 was to see how well it'd stack up against long distance sex pioneer Lovense's toys, but that will be covered in another article, for this purposes of this experience it's an entirely solo trip.
After receiving the toy I promptly charged it to full battery and got to figuring out what this bad boy can do. I made sure the sleeve was securely inside the device, it is completely removable for cleaning time and is replaceable should it ever get too worn out, I'll probably have to take advantage of that soon enough.
Once I had everything prepared, I inserted and laid back to see what awaited me. The ten distinct rings provided a fantastic sensation and I'm fairly certain they vibrate to some degree as well, or maybe that's just my genitals trembling at how great this thing works.
The ten ring design is different from the air-pump design of the Lovense Max and in my opinion, makes for a different experience altogether.
Let's just say I've never managed to use the Onyx 2 for the entire full hour battery life. I was also pleasantly surprised by not having to move the toy around whatsoever. It's a completely un-involved process from the user besides turning it on and choosing the right settings. I found it wasn't the greatest if I chose to thrust with the device, but it's absolutely phenomenal if you just lay back and let it do all of the work. Depending on your personal tastes, that may or may not be for you.
The most staggering thing about it was how quiet it was. I was expecting a sound, not unlike those Christmas toys that dance to a song and you can hear each and every gear whizzing along, boy was I in for a surprise. I wouldn't go as far to call it whisper quiet, but it's probably around 50-60% of the noise you'd expect from a traditional electric shaver as far as noise is concerned.
I absolutely love the design of the sleeve. They've made it relatively small and it comes out super easily to be cleaned after each usage as you'll be able to see from the next image.
Again, like I always say. Don't just take my word for it.
Check out what other people had to say about it by reading verified user reviews at Kiiroo!
What Comes In The Box?
The Kiiroo Onyx 2 comes with all of the following items inside the box:
The Kiiroo Onyx 2 (obviously)
A small packet of water-based lube
A USB charging cable
An instruction manual (honestly what man is going to read this though)
A warranty registration card
A trial for FeelMe (realistic porn which can sync to the Onyx 2)
Here's a short unboxing video of the Kiiroo Onyx 2 which outlines everything that comes in the box:
Testing It Out With Virtual Reality
Interactive mode with the Onyx 2 breaks a lot of new ground in the world of interactive sex toys. Many toys have for years tried to make the experience of masturbation feel less like you're a man in a dimly lit room passionately making love to himself and more like an actual sexual encounter with all of the blood-pumping intensity that comes with it.
As of writing, there's mainly three worthwhile ways to get down with the interconnected nature of the Onyx 2.
Firstly, there's interactive porn, and a lot of it. The volume of free content is growing weekly, I think I managed to get in on the fun when there was enough free content for it to be worth it, as I think it was severely lacking earlier on in the Onyx 2's release. To take advantage of the virtual reality aspects of the Onyx 2, you'll first need to download the FeelMe app from either the Android store or Apple app store.
I like my porn like I like my WinRAR, free of charge. Many toys before this one have tried to hype up how well they can be synced to interactive pornography, but they all had the disadvantageous distinction of me having to move the toy around myself. The Onyx 2 paired with FeelMe content is actually probably worth paying for, in my opinion. However, you'll get a free trial with your Onyx2, so you won't need to spend any money. This will take your experience to a new level.
So the automatic Kiiroo Onyx 2 was to be finally a way to lay back and zone into a proper video. It's fairly simple, connect the device to your phone and plop it in a VR headset, I went with a cheap $20 one I got at a local hardware store. From there, it was just a matter of finding the video I wanted and letting the code do all of the work. All in all, the videos are a pretty good time and much different than going about things manually.
The second option is hooking it up to a VR porn game. I don't have very much experience with the games themselves, but there appears to be two games that people actually play, one called Red Light Center and another called 3dX Chat. Red Light Center looks like a Second Life clone meant explicitly for getting nasty with other people, so I'd think if you can find someone to sync up to it would at least be mildly more stimulating than going at it alone. I'm not quite sure how it works or if it even works that well since I haven't used it myself, but the option is there.
Finally, many cam girls are starting to use toys that can be synced up to the Onyx 2. Simply enter a chat room and connect with the girl and transmit some sensations. Either control her toy manually while using yours or let her use a toy like the Pearl 2 to control which rings are being contracted and when. It's probably the most interactive out of all of the options for the Onyx, as it's another flesh and blood human being you're building sexual tension with.
If the standard Onyx 2 isn't quite your style and you'd rather spend a few extra bucks and get your favorite pornstar version, its available in 6 different custom versions. Each one comes pre-packed with a bunch of POV videos of the specific pornstar.
Currently the models available are Lisa Ann, Tanya Tate, Jessica Drake, Asa Akira, Bobby Eden, Romi Rain. If any of those names happen to be a favorite of yours, for an extra $10 you can get a bunch of extra videos. All the videos are designed to be realistic and simulate more of a point-of-view style of porn. For and extra 10 bucks, you really can't go wrong.
Here's a video of the 6 different models of the Fleshlight/Kiiroo Girls packages:
Where's The Best Place To Buy It?
The only place I'd recommend you buy the Kiiroo Onyx 2 is the official Kiiroo website. It's where me and my wife have bought all of our Kiiroo toys and we always get great deals. You'll save quite a bit of money shopping directly with the manufacturer.
Save an extra 15% off by using our coupon code:
They not only offer the lowest price available online, but they also offer free shipping when you use any of the links on our website!
You will not find a better price anywhere else.
Do I Recommend This Toy?
If you're in the market for a battery-assisted male masturbator that is quiet, effective, and superbly designed, the Kiiroo Onyx 2 is a great choice. It's simple to use and feels amazing.
The teledildonic aspects of the Onyx 2 and the sheer amount of different ways to enjoy an hour of battery life. If you plan on using this toy with a partner, the Pearl 2 and Onyx 2 combo is one me and my wife really enjoy.
I am thoroughly impressed by how they engineered the motor to function and besides the occasionally bulky feel of the toy, it is pretty iron-clad as far as sex toys go.
For a toy that costs around $200 (using our coupon code), it's well worth it if you ask me. The Kiiroo Onyx 2 comes jam-packed with a ton of adult content included with tons of videos of top name pornstars. They actually just released a new paid addition which works in conjunction with FeelPornstars.com which is a 3D virtual reality porn website which takes you right inside the scene as if you were actually there. The only caveat is that you have to pay for "coins" to have access to the content, although the POV films I checked out on there were pretty awesome if I'm being honest.
That being said, I'm more of a free porn kinda guy.
Parting Words
All things considered, the Kiiroo Onyx 2 has very quickly become one of my favorite male masturbators and one that I reach for quite regularly. It's a toy I'd highly recommend to anybody looking to take their masturbation game to the next level and experience a more hands-off experience.
If you've made it this far and got any value from reading this review and you're thinking of buying the Onyx 2; if you'd like to support our website.
Simply click our affiliate link before making your purchase at Kiiroo.com.
It costs you nothing and you can still save 15% off by using our coupon code:
This goes a long way since myself and my wife do not profit very much from this website (especially compared to some of our dick head competitors that you'll find in Google that don't even test the toys they "review"). Me and my wife both still work our day jobs and the majority of the money we make from this website goes right back into buying more toys for us to write about.
We really appreciate each and every one of you for taking the time to read our written content. It takes a lot of time to produce these reviews so it makes us feel good knowing people actually read this stuff.
Hopefully this review helps you in making your purchase decision.
Anyways, if you have any questions about the Kiiroo Onyx 2, just drop me a comment down below and I'll get back to you as soon as possible!