This review is about the original Lovense Lush (the Lovense Lush 1).
If you're looking for a review of the Lovense Lush 2, I've reviewed it here.
Now, lets get right into it.
The Lovense Lush is marketed as "the most powerful Bluetooth remote control bullet vibrator" so I was very eager to put that to the test. The body of the toy is shaped like an oblong egg and is meant to be placed entirely inside the vagina and kept there while the device is turned on.
I recently had the pleasure of taking the Lush for a test ride to see whether this Bluetooth vibrator lives up to these claims once and for all.
The toy can be used for solo play, but it has been designed to let your partner control your orgasm from anywhere in the world. This long distance sex toy has received quite a lot of hype among the sex blogger community and is truly unique to my entire collection of toys so I figured I'd give it a whirl. Anyone in a long distance relationship will glad to see everything this sex toy has to offer.
As many of you may know (if you happen to follow our blog), Don is on the road a lot for work and he was recently on a business trip to New York so we figured what better time to try out the Lovense Lush that we'd received in the mail a few days prior to him leaving.
Ladies, let me just preface by saying that if you don't like intense orgasms, this product is not for you. Long story short, Don let me have it, the bastard. He made me cum twice in under 10 minutes. Which was amazing, but it wasn't at all like what I was expecting.
I'm a girl that loves intense orgasms so the experience was amazing for me, but I feel it's necessary to warn women who are sensitive to intense vibration. You will definitely want to use it on the lower settings if this is the case.
I wasn't sure what to expect when I first unboxed the Lush since its design is a little "unique" looking let's just say. None of the toys in my current collection resemble the Lush at all.
I'm happy to share that after trying it out the first time on my own, I was immediately hooked and couldn't wait to give it a go with my husband.
The thing I love most about this sex toy is the control you have over your orgasms. The Lovense app allows you to control and manipulate the Lush for an orgasm explicitly tailored to your preferences.
Since I'm a girl that loves easing herself into intense clitorally stimulated orgasms, this toy has been a godsend. Anyways, let's get to the review, shall we?
STRONGEST VIBRATIONS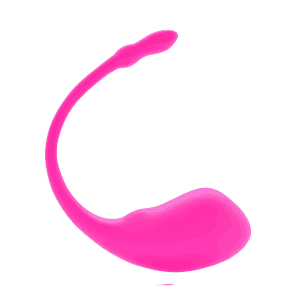 An improvement in more than just name, the Lush 2 is unique for actually possessing nearly infinite possibility in vibration setting.
FEATURES:
Comfortable G-Spot play
Delivers stronger vibrations than any toy of its size currently available
Save up to 45% off the
Lovense Lush
How The Lush Works
As a wearable vibrator with a protruding antenna that allows for Bluetooth connectivity at a range of ~30 feet, the Lush is special in its own right.
This was one of the stranger looking sex toys I'd seen at first, and to be honest I originally thought the smaller end might be for anal play, this is not the case at all. In reality, its actually a Bluetooth antenna which is meant to pick up a digital signal which is used to control the Lush vibe remotely. I was looking for a remote control vibe with tons of worthwhile features that could get a lot done on a single charge, and the Lush seemed to fit the bill.
Another thing worth mentioning which sets it apart from many of the toys in my collection is that it's extremely quiet. For this reason, it can be used virtually anywhere. It's the quietest & most discreet vibrator that I currently own, and is the one I take with me on the go for that reason (among other reasons which I will get into).
Here is a video that shows how quiet it is:
How Does It Feel?
If I had to describe the feeling in one word it would be orgasmic (as cliché as that might sound).
The vibrating sensation can be controlled via the smartphone app but I challenge any girl to last on the highest setting for longer than a minute without cumming.
The Lush makes my entire body tremble every single time I use it, but I feel it mostly in my legs. The powerful vibrations radiate through the device into my body in a pretty significant way. If I want to do a bit of hunting for my G-spot, the Lush is just long and wide enough of a device to accompany me on that journey.
It's also great for when I feel like easing my way into orgasm since I'm able to slow down the movement and vibration using the app.
What Makes It Special?
The Lovense Lush is a wearable vibrator, meaning it is inserted into the vaginal canal and then can be left there. It's pretty to look at and can give massive amounts of pleasure to everything from the clitoris to the g-spot. There are two distinct portions to the Lush, the business end that vibrates and the bendable Bluetooth antenna that sticks out of like some sort of pleasure periscope.
Everything is controlled via the Lovense Remote app, so a Bluetooth enabled phone is a necessity to use this device. It can be your phone or the phone of someone you trust controlling this vibrator implanted in your lady parts.
The Bluetooth connectivity is the Lush's reason for being so memorable. It has the longest range of any Bluetooth enabled vibrator, with a 30-foot standing range when in-front of the wearer and a 10-foot standing range when behind the wearer, and a 5-10 foot range when the wearer is sitting. Anyone's sex life can get a serious boost from the awesome experience of remotely controlling the Lush.
For such a small vibrator it's also surprisingly powerful. Even just bringing it close to the body while its at max power is enough to get the hairs on my neck standing up. Lovense does a great job putting powerful, long lasting batteries into their toys that can make their sex toys stand out from others in the crowd.
Gloriously, if both users have a phone and are connected to the internet, the device can be controlled anywhere in the globe where those conditions can be met. So long as your toy is holding a charge, there's nothing stopping you from an impromptu inclusion of sex toys in your day regardless of the type of relationship you're in.
The possibilities are endless. Yourself or your partner can directly manipulate the settings in the same room and watch the user writhe back and forth in pleasure, or your partner can tease you with various settings while watching TV in the next room. Search through all of the available settings to figure out what works for you best. Want a gentle purr to get things going? Or maybe a powerful wave of undulating pulses? The Lush has it all covered.
Always wanted to re-create the scene in When Harry Met Sally? Get the Lush by Lovense, and you'll definitely be having what she's having. When the internet enabled portion is factored in, there's hundreds of cross-country or even cross-continental opportunities for kinky fun.
With time-zones factored in, my husband can now give me orgasms from the past, present, and future (on paper at least).
Using The App
I must say, I'm a big fan of controlling my orgasm via cellphone. Gone are the days of having to push buttons on your vibrator to control its settings.
The Lovense app makes it super easy to use, and allow you to fine-tune your experience to your exact liking. Here's how it works:
First, go ahead and download the app on your smartphone. Once you install the app, there is an easy to follow setup/pairing guide inside the application. If you'd rather use a windows PC, there is a USB dongle available for purchase that'll negate the need to use the app on a smartphone.
When you register your Lush, you'll need to create a nickname and password for your vibrator to connect to the app. You need to ensure that your Bluetooth is enabled on your smartphone or tablet. It should only take a few minutes to set up especially if you're tech-savvy. All Lovense sex toys work through this app, not just the Lush.
It only took me about 2 minutes and I'm quite technologically impaired, it's pretty straightforward all things considered. Just a quick search through all of the different tabs gave me a very good idea of what I could do using the remote app and from there I learned more as time went on.
Now that you've turned your cell phone into a remote controller for your vibrator, you're ready to start using it however your heart desires, the app allows you to use any and all features on the device as much or as little as you'd like thanks to the responsive touch controls.
It's fairly self-explanatory and easy to figure out how to control it however some users might find that the app takes a little bit of getting used to. It took me a few sessions with it before I fully got the hang of it. There's also a full chat/interaction platform on the app, if you do plan on using this to spice up your relationship it does a good job of filling all of the gaps necessary to do so.
Something I really liked about the Lovense Remote app is that it allows you to make/save custom vibration patterns based on what you like. I've had quite a lot of fun with this feature since I've started using it, and have created a small library of my favorite vibration patterns.
Do I Recommend It?
To put things simply, if you're on the search for a bullet vibrator capable of inducing intense orgasms, the Lovense Lush is for you.
I purchased the Lush earlier this year, and so far I've really been enjoying it. For girls like me that enjoy clitoral stimulation, this vibrator is perfect. It's also shaped wisely in a way that lends itself to some g-spot play, for what it's worth.
The body of the vibrator itself is the perfect shape to target my clit, and the app allows me to ease myself into intense orgasms.
Integrating this toy into my sex life has allowed for a lot more intimacy in my relationship between my husband and I while he's travelling on the road. It's pretty amazing knowing he can get me off anywhere with internet connection using this powerful sex toy. I've gotten good at figuring out how to position it to rest on my G-spot, having Don boot up the toy while I wait in suspense makes this vibrator one for the ages in my opinion.
When I originally ordered the Lush, I honestly had no idea what to expect, especially considering I thought the Bluetooth antenna might be an added anal stimulator. However, since giving it a whirl the Lush has quickly become one of my favorite toys in my collection.
Remember to clean your toys after ever use, anything you put this close to your body deserves a little TLC to keep it in tip top shape.
Its unique design and the easy-to-use app have really gotten me hooked. I've yet to try the dongle that allows it to connect to a Windows PC, but I imagine it's the same experience just with a mouse as opposed to your finger.
Where Can You Get It?
We recommend buying the Lovense Lush directly from the source! It shouldn't come as a surprise that the cheapest place to buy the Lush is from Lovense directly.
I have found one Lush knockoff that tries to pass off as the real thing, so read anything fully online so you don't get a fake product. I buy right from the the official Lovense store. That way I can take advantage of any deals or notices of newer versions of any device they have on sale.
We've had a great experience shopping with Lovense, and highly recommend their online store. Shipping is fast in the USA from our experience, international is probably average length.
Conclusion
This remote control Bluetooth vibrator produces powerful vibrations advertised as four times as strong than 90% of the vibrating eggs on the market, meaning that even if the aspects of the Lovense Lush that make it truly unique (ability to have a partner control your orgasms remotely) don't interest you, I absolutely would not dismiss the Lush as something that only has that gimmick going for it.
I use it all the time solo and am amazed at the lack of noise but the abundance of stimulation. One of the reasons I use it so often is how easy it is to clean afterwards, the maintenance burden is quite low compared to my other vibrators.
The device is curved to best hug the G-Spot and if it weren't for my moans it'd be a nearly completely silent experience. But having the ability for my husband Don to help me get off when he's thousands of miles away really makes me feel connected to him physically even when he can't be there physically, as I know it was his hand causing the device to work the way it did. I keep my Lush close at all times, it has the distinction of being a nightstand vibrator and not a closet vibrator.
Thanks for reading my Lovense Lush review, I hope I managed to cover everything you were interested in figuring out!
If you've read this far and have gotten any value from reading my review, I'd really appreciate it if you clicked our affiliate link.
The link will take you directly to the official Lovense store. If you make a purchase, we make a small commission and it costs you nothing.
It really helps out our website since we do not run this website to profit and all of the money we make goes into buying new toys that we can test and write about on this website. We really appreciate all of the readers that use our affiliate links, since their the reason were able to buy new toys to write about.
We really appreciate readers like you taking the time to read our content. It means a lot knowing people actually read what we write. Thank YOU!
- Angela
If you have any questions regarding the Lovense Lush, just leave a comment below and I'll reply as quickly as possible.