A newer version of the Max, the Max 2, is now available. For a full comparison of the two, click "Max & Max 2 Comparison Chart" in the table of contents below. Also, the original Max will no longer continue to be manufactured, expect it to be out of stock shortly after this article is posted.
Are you looking for a toy that massages your penis in a way few other sex toys can?
The Lovense Max uses teledildonics to stimulate the user either self controlled, or remotely by a partner.
With all of the options in male masturbators out there, the market is saturated and entrenched online.
By this point I've waded through dozens of different toys from the many versions of Fleshlights to the Tenga Egg and beyond, there's a risk I might even go as far as to say that I've seen it all.
Impressing me or catching my eye with a new toy is something of a challenge, to say the least. So when I saw an automatic male toy with remote control features, I knew it wouldn't be long until I was typing up a review.
The Lovense Max 2 is a toy that sets a new standard among male masturbators. There were some noticeable improvements made to the original Max which I will get into later in the article.
Lovense continues to keep breaking through what I thought were impenetrable walls in sex toy technology, allowing me and thousands of others to penetrate those walls ourselves and get off in the process.
I first bought the Max because my wife Angela owned the Nora, and she told me that you can pair the two toys together, and be able to control each other's toys from anywhere.
Needless to say, this piqued my interest, and I nearly immediately ordered myself one directly from the Lovense website. They offered the lowest price available at the time. What's interesting about this particular toy is that it has vibrations as well an air pump, something no masturbator I own has included.
Since receiving it I've become quite acquainted with the toy and have tested the product both by myself and also paired with my wife's Nora.
In this review, I'll be going over everything I like (and don't like) about the Max.
REVIEW SUMMARY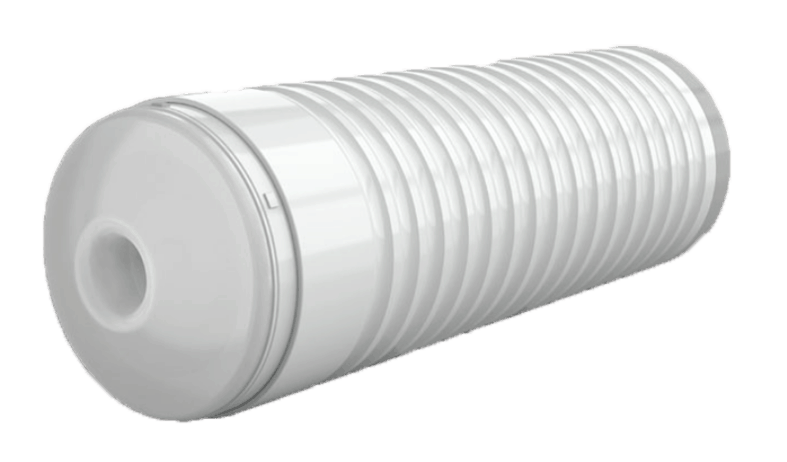 Lovense Max
Uses teledildonics to stimulate the user either self controlled, or remotely by a partner.
FEATURES:
Intense vibrations + air pumps make the Max 2 entirely unique
A very easy to use and highly enjoyable sex toy
Splashproof
Save up to 45% off the Lovense Max
CLAIM YOUR DISCOUNT →
Get your own Lovense Max and save up to 45% off using our link
Design
The Max is a male masturbator which is not unlike a Fleshlight, there is a textured sleeve inside that is housed in a hard shell. Unlike the Fleshlight however, this toy's shell has enough bells and whistles for me to consider this the Dom Perignon of fuck toys.
At first glance, the Max is fairly aesthetically pleasing but not necessarily remarkable. This toy looks like Apple's take on a Fleshlight and in more ways than one that's a pretty fair summary of what the Max is in the grand scheme of male masturbators.
The entirety of the device measures in at 9 inches long and 2.5 inches in diameter, the inner canal being slightly less than both measurements, the company's claim that 95% of men can comfortably make use of this device is believable as it is very accommodating inside and men who can't fit in a 9 inch long sex toy are something of a rarity.
Charging takes a little under an hour and that'll get you at least an hour's worth of usage from the toy. I personally find it is relatively difficult to bring the toy all the way to an empty battery, usually after two or three uses I figure it's time to give it a charge.
How Does It Feel?
The Lovense Max's sleeve is made of a material similar to Fleshlight's SuperSkin or PipeDream Extreme's FantaFlesh, and I find the quality and feel of this material is somewhere in-between those two, being better than FantaFlesh but not quite as supple & gentle as SuperSkin.
The sleeve itself is not the main selling point of the Max though, so I'm fine with it losing some points in the fake skin department.
Where the Max truly shines is all of the added in goodies in the shell. This toy is actually electric and the added functions are powered by a rechargeable battery.
Let me elaborate:
The sides of the toy are lined with air pumps that can be customized by the user to increase the amount of stimulation felt on the penis. When these pumps are engaged, they provide a very good simulation of the contractions of a woman's vagina or mouth around the penis for an intensely satisfying experience unlike any other sex toy I've laid my hands on.
In addition to the air pumps, there is a vibrator inside the device at its very end that is powerful enough to send vibrations through to the entire shaft of the device and therefore the entire shaft of the penis inside.
The other features of the Max worth mentioning is an air vent to control suction (much like the end-cap of a Fleshlight), bluetooth functionality so the vibrations and the air pumps can be controlled via your (or your lover across the world's) phone using the Lovense Connect app for a fully customized experience, and the ability for it to be paired with another Lovense product, the Nora, achieving the first true to life option for long-distance sex. This toy is only splash-proof and not water proof, don't take it in the shower with you!
The Max comes with 3 different vibration modes, and 3 different air-pump settings as well. On the app there are different patterns made by users out there, with some using the air pumps extremely well to replicate a blowjob.
Here's a promotional video made by Lovense which shows you the different settings:
My Experience With The Old Version
I received the original Lovense Max back in 2018 and finally have gotten around to unboxing it, charging it, and having my way with it until I've figured out all of it's hidden secrets over the past few weeks. After much testing, I'm able to share my experiences with this interesting male masturbator.
The Solo Experience
The only thing that may need to be revisited again in the future is the opening of the device. It is fairly tight and while it did not cause discomfort, sometimes insertion isn't always straightforward. I usually forget about this point once I actually get inside the toy and feel the individual beads of the textured sleeve hug and caress my member.
The internals of this sleeve is most comparable to the Fleshlight STU, which is in my opinion the best Fleshlight sleeve if complete and utter domination of the nerves on your penis is what you want. In this regard, the texture of the sleeve it pretty amazing and I love feeling the dozens of ridges go around my glans and shaft. Towards the end of the device more endowed users will get to enjoy a ribbed texture perfectly suited for the glans.
The vibrations from the device are extremely strong and I do not always even get to engage the air pumps before I'm finished. The air pumps provide an interesting dimension to any wank-off session not found in any other sex toy that I know of. The air pumps create a much more varied sensation that, at least for me, increases the amount of pleasure felt by a factor of 10. I love allowing the Max to massage me to climax.
Without the air pumps the Max would be just another wannabe Fleshlight but with their addition the Max is a sex toy in a class of its own. Unfortunately, this means that if your Max isn't fully charged, you should reach for a Fleshlight instead, preferably the STU if you want a sleeve of similar texture to the Max. That means some proactive charging is helpful when ensuring that the toy is always ready to go.
The Duo Experience
There are two ways to enjoy the Max with a partner, either by allowing your partner access to your Bluetooth enabled Max through the Lovense app or by pairing it with the Lovense Nora.
When paired with the Connect app on a phone, you or your partner have complete control over the level & pattern of vibrations as well as control over how much the air pump is working. The app is very intuitive and well made and your partner can bring you through a sexual odyssey of their choosing.
My wife and I both have gotten great pleasure in using the Max and Nora combo together. It brings intimacy into our relationship during the times we can't be together physically.
After testing out the Max extensively both by myself and also paired with my wife's Nora (which we've written about in an article about our long distance sex toy experience), I can say that I am a huge fan of this toy.
The Nora and the Max pair together, as pictured to the left, and this is where the Max's Bluetooth settings really shine, and that's when it's paired with the Nora.
The Nora, reviewed here, is a vibrating dildo made for women. When a Max and a Nora are paired together, data from the Nora is sent over an internet connection and corresponding sensations are made by the Max, allowing for the first real iteration of long distance sex to be possible. Needless to say, there are many days where both of our toys can be found next to our beds charging away even if those beds are miles apart.
As the woman brings the Nora back and forth along her vagina, the air pumps & vibrator on the Max respond correspondingly. And as the man pumps into the Max, the Nora responds by vibrating and rotating. Both devices are controllable through the remote app, so either physically or digitally both users can enjoy intense and heavy sex without having to even be in the same room or even city. Synchronization is best when both parties have a very strong internet connection, otherwise, they may be a few seconds delay which is a bit of a bummer. This technology known as teledildonics allows me to fuck my wife and for her to fuck me even when we're thousands of miles apart.
Now you might be wondering at this point, what's the difference between the old Lovense Max and the new Max
Lovense Max & Max 2 Comparison Chart
The Max By Lovense

(The Original)
Released in 2013, last gen released in 2017
2.54'' orifice
9'' long
Splashproof
2 hour battery life
Vibrator at end of toy
Moderate contractions
The Max 2 By Lovense

(New & Improved)
Released 2019
3.33'' orifice
9.5'' long
Splashproof
2-3 hour battery life, faster charging
Larger vibrator more accurately placed
360° air pump contractions
The Lovense Max 2 Reviewed
Lovense was lovely enough to provide us with a Max 2 a few weeks ahead of release for us to have a day zero opinion on it. It was strange knowing I had an exclusive sex toy not everyone gets to have at tat particular moment.
I can see that they had serious confidence in the Max 2. We've had about two of the originals over the years, probably fitting in around their second/third and last generation of the toy. It was nice overall but the small orifice and weak vibrator sensations stood out to many people online.
A slight difference I didn't appreciate until I actually used it, the finger holes along the Max 2 is one of its features that change the game entirely. It is rare for me that applying lube doesn't get a little messy, the finger holes level out the playing field big time. Not bad at all, not bad at all.
I received the clear orifice which was easy to clean (knew exactly when all the lube was washed out) and a little less garish than a straight up vagina, so that's two points for the Max 2 immediately.
Besides the electronic controls there are three useful controls on the bottom of the masturbator. One is an air hole with an adjustable sliding cover to customize suction, another is a button to instantly deflate the pumps, and a secondary air hole that should be kept covered come cleaning time.
There are enough different settings right out of the box to get you through a few experimental sessions but I'd say the toy really shines once you bust out the remote app. After your device is connected to your phone, there is a lot more to discover about what this masturbator can accomplish. You'll be able to personally tailor the level of vibration and air pump usage, all while experimenting with publicly available patterns made by others that can be in excess of 10 minutes long.
One tip, if you take out the sleeve and turn on the pumps like I did you're going to have a bad time trying to deflate them. Get something that'll fill in the space the sleeve did, paper towels worked well for me. Alternatively, don't turn it on without the sleeve in.
With the pressure of your finger you can adjust the vibrations as well as the air pumps to your heart's content. These patterns can be shared so the less creative among us such as myself can benefit from all of the time people pour into making the perfect sensation.
Be really gentle with the sleeve during washing and always remember to get some sort of water-based lube, avoiding anything oil based.
It's a straight improvement right out of the gates. Everything is improved, all of the reasons why you'd even like to have a Max are better catered to. It's the Xbox 360 to the original Xbox, except no worrying about any red rings of death.
Where To Buy It
I bought my Lovense Max from the Lovense website directly, since they offered the best price compared the other retailers.
Which makes sense since they manufacture the product themselves.
They also provide a one year warranty on all of their products which covers all working parts but does not cover damage caused by wear and tear (obviously).
If you're considering purchasing the Max, I'd highly recommend buying it directly from Lovense. When I bought mine, it arrived within a few days, and I got the lowest price that I was able to find online.
Conclusion
The Lovense Max is a masturbator that is innovative and fun to use on its own, with a great sleeve made of a very comfortable material and air pumps that do a great job at feeling just like the contractions of a woman's vagina. Their commitment to bring long-distance couples closer together with their Bluetooth enabled sex toys is worthy of applause and they really brought long-distance sex out of the realm of imagination and into the palm of your hand. Once you settle into the Lovense Max, you might find it hard to come out again. My wife and I also feel much more connected being able to engage in long distance sex, something that means a lot to us.
If you've made it this far and you've gotten any value from my review, it would mean a lot if you'd click our affiliate link before shopping at Lovense.
We receive a small commission which really helps with the maintenance of our website. Nearly all of the money we make goes right back into buying more toys that we can write about for our readers.
Using our affiliate link costs you nothing and you'll still get the lowest price available at their website.
This helps us and our website out a lot since both myself and my wife still work full time jobs on-top of sex blogging.
Anyways, that's about all I got.
If you have any questions at all be sure to leave a comment down below and I'll respond as quickly as I can!