The Fleshlight STU (Stamina Training Unit) is a toy that has been strategically designed to help men increase their sexual stamina i.e. last longer.
So, picture this, you're finally getting hot and heavy with your dearly beloved after waiting for it all day, maybe even all week. You caress each other sensually for over twenty minutes and build so much sexual tension you could practically cut it with a knife.
Finally, after letting her know how you're going to give her a good old fashioned rogering, you slip your cock in and... promptly empty your nut sack after a mere five minutes.
Sound familiar?
Well, if you're lacking in the stamina department, all is not lost. There are ways to boost your stamina and last longer in bed aside of thinking about your wrinkly grandma, bless her soul. Read on so I can describe a Fleshlight intended to help improve your ability to satisfy your partner.
The best way to practice and get better is by doing, everyone knows that. The same principle applies to being an absolute Adonis in the bedroom, except there's no gym where you can fuck real girls to increase your skill level each week, not to mention there's about a billion things both morally and legally bankrupt about that idea.
The Fleshlight STU, short for Stamina Training Unit, is the next best thing. This Fleshlight has been specially designed for training men to prolong their ejaculations.
The sleeve is designed for maximum stimulation of the penis to make it incredibly difficult not to bust your payload nigh-instantly.
Its a unique Fleshlight that I decided put to the test to see if it lives up to the companies claims.
REVIEW SUMMARY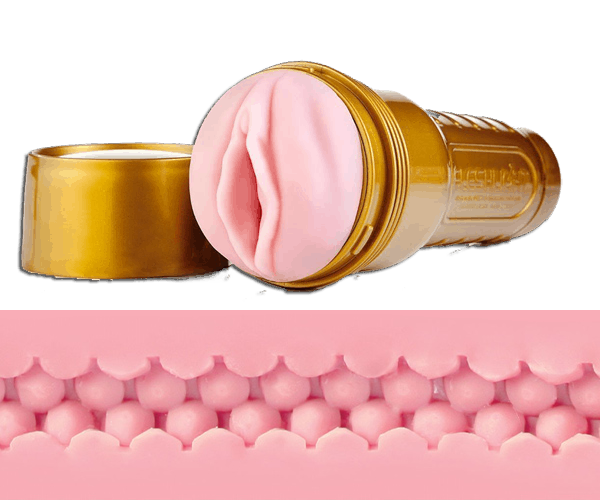 Fleshlight STU
The Fleshlight STU (Stamina Training Unit) is a toy that has been strategically designed to help men increase their sexual stamina last longer.
FEATURES:
Hands down the most intense Fleshlight sleeve on offer
Impressive level of stimulation leads to definite stamina increases
Extremely tight
Get a 10% discount using code: DrClimax10
CLAIM YOUR DISCOUNT →
Get your own Fleshlight STU and use code DrClimax10 at checkout for a 10% discount
I purchased the Stamina Training Unit because I was looking to increase my sexual stamina in the bedroom.
Since like many men, I don't have the best restraint when it comes to ejaculating.
I wanted to purchase a toy that would help me last longer in bed, and lo and behold the STU is marketed to do exactly that. I was a little skeptical at first, but I was really pleased with the results.
Not only am I a big fan of the STU, but my wife is as well (and she's never even used it).
The Fleshlight STU: Design & Specs
The R&D team at Fleshlight definitely clocked some overtime hours thinking up how to make a Fleshlight Stamina unit. The sleeve design speaks for itself.
Packed front to end with Superskin domes meant for maximum stimulation of the penis, the STU refuses to be anything less than the most intense Fleshlight experience possible.
Why specifically these domes?
Simply put, form fits function. The function of the STU is to be as stimulating as possible, making the user spend all of his energy on not immediately blowing his load.
I find the outside of the sleeve of the Stamina Training Unit to be very similar to both the Fleshlight Go and also the Fleshlight Pink Lady (the original Fleshlight)
Here's a video review that shows off the features of the STU:
What Makes It Special?
The sensitivity of a man's penis determines how much pleasure a single stroke of a given intensity brings, and if someone is too sensitive this means too little stimulation brings about too much pleasure and brings him to climax much too early.
In the days of our ancestors, this was advantageous as blowing your load before saber-toothed tigers came back to your neck of the jungle meant your efforts at reproduction were more likely to succeed. In modern times the sexual satisfaction of both you and your partner are essential in maintaining a healthy relationship, so many men look for ways to increase their time in the sack.
So, by regularly using a device that is extremely tight and extremely sensitive to get used to intense stimulation, the user gradually brings up how long he is able to last within the clutches of this devilishly pleasurable pseudo-snatch.
This is the glory of the STU.
After using the Stamina Training Unit regularly, I found I was able to drastically prolong my orgasms. I normally last between 10-15 minutes in typical sex session, but after using the STU for a couple weeks, I'm now able to last 20-30 minutes. Needless to say, the wife is impressed.
How To Use It
Alright cowboy, let's get started on how to use this beast to turn your before-bed quickie into a depraved evening of senseless hedonism.
The previous section focused on the physical aspects of the Stamina Training Unit, this section adds in the mental aspect of lasting longer in bed that must be incorporated into a proper training regimen.
The ideal mental state to be in for a true training session is of one of total ravenous arousal. Whether it be internet pornography, dirty magazines, or the memory of that girl who's name escapes you that time you went to Cabo for Spring Break, get yourself as hot and bothered as possible. The intent here is to learn how to control yourself when you are at both your physical and mental peak as far as sexual arousal is concerned. The Fleshlight covers your bases with regards to the physical aspect, but the mental aspect is all on you, my endurance embroiled compadre.
With the sexual intensity cranked up to 10 on both the mental and physical scale, you are now ready to begin. The first few times will most likely result in a quick release and the desire to clean out your device but don't be discouraged, it is not where you begin, but where you end up that matters most here.
As you continue to use the STU, train yourself to move your mental state & management of the physical sensations simultaneously towards being able to maintain the level of stimulation while lowering your sensitivity to each stroke. Go as fast as you usually do during prime thrusting period of sex and try your hardest to not ejaculate, if you find yourself approaching the point of no return, promptly slow yourself down so you don't cum. Rest for as long as it takes for you to get yourself back to semi-baseline and go at it again. Repeat this process several times until you're ready to end your training session by blasting into the STU. The payoff at the end is ridiculously worth it, and each time you do this your time in bed just got increased by a few seconds as you lower your sensitivity. Timing your sessions will give you insight into how much you're actually improving.
My personal favorite way to use the Fleshlight STU is by pairing it with my Fleshlight Launch. The Launch is a product designed by Fleshlight which you can insert your favorite Fleshlight and it will do all of the work for you.
Another fun way to use the STU is by inserting it into the Fleshlight Launchpad. It's a very realistic way to enjoy POV porn videos.
Do I Recommend It?
Absolutely.
The STU isn't just a great toy for increasing your endurance in the bedroom, it's also an extremely enjoyable Fleshlight for purely masturbatory purposes.
Even though I originally purchased the Stamina Training Unit to help prolong my orgasms, I still use it to this day strictly for masturbating because I enjoy using it.
It's without a doubt my favorite Fleshlight, and I recommend it 100% if you're in the market for a new toy.
Don't just take my word for it! I'm just some random man on the internet after all.
See what other random men on the internet think about it by reading verified customer reviews at Fleshlight!
Does The Stamina Training Unit Really Work?
After using the toy regularly I can say without a doubt that the Stamina Training Unit definitely works at prolonging orgasms once you start to get the hang of controlling your level of sexual gratification.
Now don't expect to become a stallion overnight, the benefits that come from using the STU come gradually as you make mental and physical changes that result in lasting longer in bed.
The principles at play are quite simple. The inside of the STU is very tight, it's a tighter channel than most sleeves as-is and the extra bulbs in the sleeve make it even more stimulating. The feeling is consistent and strong throughout the sleeve, much in the same way that the vagina is very much the same throughout its length. The nerves on the penis are sensitive, so like all nerves you can make them much more "used to" the kind of extreme pleasure given by the STU. If you use the toy and work your way up to lasting longer and longer while using it (try to aim for 15-30 seconds longer every time you use it), you will eventually build up the stamina of your penis which will transfer over into the bedroom since sex is a very similar type of stimulation. These gains might seem small if you look at each one individually, but over time you'll notice minute after minute adding up in the stamina department.
If happen to you suffer from premature ejaculation, I'd recommend using a delay spray before you have sex in-conjunction with building your stamina up over time with the STU.
Where's The Best Place To Buy It?
We recommend buying the Stamina Training Unit directly from the official Fleshlight website. They offer the lowest price available online, and you can rest assured it's a legitimate product.
Get an extra 10% off by using coupon code "DrClimax10" at checkout. Click here to redeem!
Buying directly from Fleshlight ensures you receive the most up to date version of their products at the right price, they've updated the suction cap a few times over the years now.
I received free shipping on my order through them, if you're buying your first toy it's pretty much guaranteed you'll hit free shipping. Remember, if you're really close to the free shipping threshold you might as well buy another item for the same price as shipping would be, at least that way you might get a bit of extra lube or something.
Conclusion
For those who need some help increasing or maintaining their sexual stamina, or just for those who want the absolute most pleasurable experience available from a male masturbator, the Fleshlight Stamina Training Unit absolutely decimates any other technique or product I've ever come across.
This beast was made to bring you to orgasm nirvana with as minimal effort as possible, meaning resisting orgasm takes as much effort as possible. Buy the STU for a great product that speaks for itself, I was thoroughly impressed by the unit and my wife is thoroughly impressed with the increased length of our nightly romps. Sometimes I wonder if I'm toeing the line of having too much of a good thing.
If you'd like to check-out some more Fleshlight reviews, I've tested and reviewed plenty more of their toys.
If you've made it this far and have gotten any value at all from reading this review, it'd really mean a lot to if you clicked our affiliate link.
We'll receive a small commission if you make a purchase at the Fleshlight store and you'll still be able to use our coupon code "DrClimax10" to save 10% off your order. Using our affiliate link costs you nothing, it simply gives us a small commission on any product you purchase.
This goes a long way and readers like you clicking our affiliate links is the reason we're able to purchase new toys/products to review. Since most of the money we make is re-invested into new products.
Thanks for being a reader and if you do click our link before making a purchase, I want to personally thank you. It helps, a lot.
Anyways, that's all I got. Be sure to leave a comment down below if you have any questions at all!