My New Favorite Wearable Vibrator
Written by: Angela Watson | Updated: March 1st, 2020
When I first started buying hands-free vibrators, I thought I was about to find out just how pleasurable my solo sessions could be.
Imagine, a toy I wouldn't need to constantly move around and give effort to? The ability to just lay back and let a toy do all the talking seemed absolutely groundbreaking.
Unfortunately this was back when most remote-controlled car toys still had a wire connecting the toy to the remote.
Battery life wasn't anything to write home about, neither was the power it delivered, and don't even get me started on crappy remotes that couldn't change a setting to save their own plastic existence.
It's 2021 now, those days of gimmicky electronics have given way to actually interesting sex tech.
Lovense has always impressed me with their commitment to worthwhile and steady tech for a toy that can actually stand well on its own, but they also go all in with Bluetooth connectivity for local or remote control. I think that is huge part of why Lovense toys are practically a standard among camgirls at this point.
One of their favorite picks just so happens to be one of my favorite Lovense toys of all time, the Lush 2.
I loved my Lush 1 I got back in 2015 but in 2018 once this update came out I was reintroduced to the beauty of a strong wearable vibrator.
After all, I'm so used to proper dildos and vibrators that whenever a toy just as fun as those comes up I tend to remember it.
(Save 45% With Included Special Price)
What's Different About The Lush 2?
STRONGEST VIBRATIONS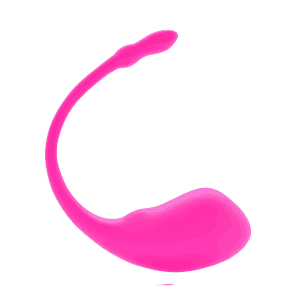 An improvement in more than just name, the Lush 2 is unique for actually possessing nearly infinite possibility in vibration setting.
FEATURES:
Comfortable G-Spot play
Delivers stronger vibrations than any toy of its size currently available
Save up to 45% off the
Lovense Lush
A huge pet peeve of mine from sex toy companies is that sometimes they update a toy and it seems nearly identical in all respects except for weird, intangible aspects like 20 minutes more or battery life or half a decibel less loud. So whenever there's an update that changes both the exterior as well as the interior aspects of a toy I really feel as if I'm actually being cared for as a consumer.
The first of the two pictures is the silhouette of the original Lush 1, with the updated Lush 2 being the second picture.
As you can see, the biggest differences are in the antenna and the body of the toy itself.
The antenna is more conveniently sized & shaped while also (to my knowledge) being much better suited for receiving/sending signals from the toy. The toy's ability to pick up signals at a range has been increased due to this as I've discovered from my testing.
The body of the vibrator is a bit more compact while having harsher angles overall. This is very smart because the kind of oblong design of the first Lush took a while to figure out how to insert the well-lubed toy and have it actually sit at the right spots.
That bump towards the top of the Lush 2 makes the toy a lot more likely to actually nestle in the top portions of the vagina. If you're lucky enough to place it right there's a good potential to have the bump right on the g-spot while the residual vibrations to the antenna tickle the labia and clitoris.
Now all of that was just how they smartened up the exterior design. You might be able to fool us at first by changing up the shape, so what's actually different under the hood? Their motor is an absolute beast compared to any other small toy I've used.
I think most toys try to tread the line between how long their battery lasts and the total power potential of their toy which actually ends up helping nobody in the long run.
The actual bits responsible for creating the vibrations are a lot bigger and futuristic compared to toys that are powered by disposable batteries.
Since the toy uses its own powerful rechargeable batteries (about an hour and a half charge and usage time overall) I would imagine they are a lot more confident in how much power they can safely and reliably deliver with that hardware.
Actually being able to quantify the improvements to their toys is a huge part of why Lovense always manages to chip away at my cynical exterior, so I do appreciate that.
The Real Differences Between The Classic Lush & The Lush 2
Despite how much I love the original Lush, there were a few things that made it less than 100% flawless that I noticed when I did my first review. Firstly, it wasn't always easy to turn off in use since you had to fumble with your phone, and there were sometimes connectivity issues when using it with a partner while in a long distance relationship.
Both of these issues were nipped in the bud entirely by Lovense with the newer iteration of the Lush, the Lush 2. There's a button on top of the Bluetooth antenna that enables users to turn it off themselves if they need to and the Bluetooth chip has been brought to the absolute extreme end of the toy that seems to give it some serious extra power when it comes to taking commands. Now the device range is effectively 45 feet when facing the toy and 30 feet when behind it.
It's still almost completely silent when inserted even though the motor got an upgrade too, either that or they changed how the vibrations radiate out from the inner shell, because the Lush 2 is just a pinch more divine than it's older sister. It still hits the clit and the G-spot exactly how I'd like it to, I was worried the new Lush wouldn't be able to give me the same kind of vibrator experience I was looking for. This time, I was not disappointed.
When it comes to get the vibe clean at the end of a session, the completely waterproof design and silicone makeup of the toy make it all too simple to return the toy to an unsoiled state. The silicone exterior also dries in what feels like under a minute.
With a redesigned antenna and an even more powerful motor, the Lush 2 is a great example of a company listening to customer feedback and bouncing back with an even better product.
My Experience With The Lush 2
Obviously because I was already well acquainted with the Lush 1 there wasn't necessarily a lot of crazy surprises when I got to actually unboxing the bullet vibrator in question.
Now, what kind of vibrator it is is kind of up for debate. Thanks to the long antenna it's really easy to keep this small toy in your hand for some fine work both inside or outside the vagina.
There are times where I've used it just to gently play at the clitoris thanks to the rounded edge while even allowing it to just nestle in-between during all kinds of other situations solo or with my husband just all give me a strong fondness for the toy.
The antenna makes up about 4'' of the total 7'' if you were to measure it lengthwise. It's more or less impossible to actually lose up your body with the extra slack helping pick up signals from the controls.
On that note, controlling it via your phone with Bluetooth is the best way to get precise control, thankfully though it isn't compulsory to involve your phone. Sex can get messy, enough said.
The above modes can all be scrolled through by using the same button used to turn on the toy at the end of the antenna. They absolutely get the job done in letting you explore in a general sense most of the different rumblings, vibrations, and especially the overall power level. Be mindful if you're planning on scrolling past high that you might get a little blindsided if it gets going before you can scroll past it. At least my yelps always make me laugh afterwards whenever it gets me off guard.
Only a small amount of lube is required since the smooth silicone slides in very nicely likely due to the overall shape and size of the Lush 2. As far as girth goes it's somewhere in the medium range while only having three inches of insertable space means most people won't even have to worry about the toy "bottoming out."
Never do I really feel pushed to my limits because of the size however this Lovense bullet vibe really shines as a G-spot hunter for the ages.
Most of that is directly related to how smartly angled the body of the toy itself is now. Even when my own lubrication makes the experience a lot more slick I can still easily get the toy seated in exactly the spot I'd like it to.
Sometimes I can even get away with moving around quite a distance without any shifting whatsoever!
The Lush 2 really does have a lot going for it besides the proper performance from the internals. The body-safe silicone exterior is completely waterproof plus the USB rechargeable battery allows for anywhere from 1.5-2 hours to total play depending on how much you put the pedal to the metal, with charge time resembling the same amount of time. Essentially, the Lush 2 works as a fantastic smaller vibrator for any and all purposes you'd like one for while also being excellent for public or couple use without missing a single beat.

Not bad at all Lovense, not bad at all.
The Lush 2 & The Lovense Connect App
Let's now get to what really helped push the Lush 2 into worthwhile territory for me. Even the best toys can start to lose their magic once you get accustomed to their concept, no matter how fresh it is at the time. If you look at a toy and only think about its few different settings and how you might have been down all the paths you can with it, that isn't a good sign.
By getting the Lovense Connect app on any mobile device or a PC with an extra dongle (the app seems to be optimized for mobile, for what it's worth) a whole extra dimension of control is added to the toy overall. All of the features I'm explaining now can either be used by the phone directly connected to the toy or any other phone in the world connected to the Internet that has been given permission to do so from that "main" phone:
Full Page of Extra Vibrations
Sync's Together With Music
Out of these three I'd say the aspect of Lovense Connect I use the most would be the fan-made vibrations. On the same page you can adjust the controls via the responsive touchscreen in real-time you can also record vibration patterns of your own. These can then be posted to the general page where anyone can eventually stumble onto it. Since you can organize by popularity and similar parameters, some people have taken it upon themselves to make some ridiculously great orgasmic safari adventures. I'm not quite sure what else to call them.
It's extremely convenient in my opinion because other people have recorded some amazing vibration patterns that can be more than 30 minutes long! The real suspense of not knowing what's coming next or what kind of play this pattern is going to give adds a lot of erotic fun with very little chance of running out. I consider it a reason why any Lovense toy I have will pretty much never get stale. No matter how bored I am, there's almost always a little bit of time to see what the most popular vibrations of the week are.
Where's The Best To Buy It?
Unfortunately I have been emailed quite a bit in the past few months about counterfeit Lovense toys, with the Lush 2 being targeted almost the most. It's likely the easiest to make something that looks somewhat similar and then these knockoffs make it to sites like Amazon from time to time. That's why a properly trusted sex toy site is always better than general market sites, with the official store being the best choice in my experience.
Inside the Lush 2 box is a full manual if you need a refresher on how any of it all works as well as the charger. If you end up wanting to get rid of the box I'd recommend a nice small satin bag of some kind or if you really want to go hog wild you could get a proper antibacterial sex toy bag.
In general Lovense always impresses me without being absurdly pricy. Each toy usually gets an upgrade every 3-5 years and each time they reaffirm themselves as one of my absolutely favorite manufacturers of all time.
(Save 45% With Included Special Price)
Final Thoughts
The Lush 2 really sets the bar for what any woman should expect from a vibrator. It's simple to use, powerful beyond belief, and easy to clean and take care of all while being body safe. The extra bells and whistles are nice and really do make this Lovense toy stand out from not only Lovense but from all bullet vibrators out there, but at the end of the day most people who aren't absolutely obsessed like me will be looking for the true quality of life options.
Simply put, Lovense hit back at some of my doubts that they might be losing their edge (no, not THAT Edge) since a few other toys out there were definitely starting to outpace the original Lush in raw power. The silicone exterior really shows off just how powerful their larger motors are in action, seriously. Because of everything put together in one nice vibrating package, it's hard for me not to love this toy and reach for it on a weekly basis.
Really, it's a great sign to be seeing more toys like this one coming out because it is taking full advantage of just what possibilities are out there with online connectivity. There's something to be said about all of the ways Lovense has coded into their app for people to come together. That's on top of letting people, well, cum together.