The Lovense Edge has quickly became one of the most popular prostate massagers currently available and there's countless user reviews online that back up that claim.
I decided to pick one up for myself to see if it lived up to the hype.
I've been apprehensive over the years when it comes to things being inserted up my bottom, for the longest time I considered it solely a one-way passageway. After my wife wouldn't let up about me having to experience prostate orgasms, I figured I had to take the plunge and let something plunge into me.
This was none other than the Lovense Hush, a Bluetooth enabled butt plug, and dare I say it, I liked it (you can read my review to find out more about it). Now that I have dipped my toes in the realm of butt play, I figured it was time to kick things up a notch and go for gold with a dedicated prostate massager.
I figured I might as well go for something that would definitely get the job done so I could finally track down and wrestle out a prostate orgasm out of my hindquarters to get the full anal experience. For this reason, I sought out the Lovene Edge.
I decided to find a toy that seemed like it had as much versatility as possible with regards to how stimulating the device could be, and eventually settled on the Edge. My wife Angela helped me come to this conclusion after she realized she'd be able to control the toy using an app on her phone.
The reason for this is due to the Edge having an adjustable design, the head of the toy that is designed to be inserted in the canal cavity can be bent to fit perfectly to the individual man.
Finding the perfect spot on your prostate that gives the most pleasure is comparable to how it can be with women with regards to finding their G-spot, the last thing I wanted was a toy that either completely missed the spot or only gently rubbed on it, forcing me to go back to the drawing board and do trial and error with as many different toys as possible.
The adjustable head of the Lovense Edge appealed to me immensely because I felt I'd be able to properly explore and see what feels best for me.
OUR TOP PICK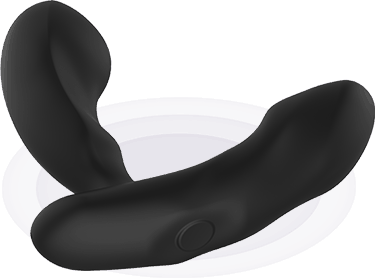 Has a unique shape which makes it perfect for stimulating the prostate. 
FEATURES:
Most adjustable prostate massager currently available
The perfect mix of size & power to satisfy the largest variety of people
Save up to 45% off the
Lovense Edge
Specs & Design
The Edge has a unique shape which makes it perfect for stimulating the prostate. Not only that, the edge is an adjustable prostate massager so the shape can be adjusted accordingly.
As far as dimensions are concerned, the maximum diameter around the insertable end of the Edge is 1.41 inches, just a pinch under the typical butt plug maximum width of 1.5 inches. There's 3.13 inches total of insertable length in this arm while from one end of the handle to the other there is a length of 4.49 inches.
The Lovense Edge is made from 100% medical grade silicone and is completely waterproof. What's somewhat atypical in the Edge compared to most male prostate massagers I researched was that the Edge has two motors for vibration. There's one in the end that goes into the prostate and another at the end of the handle that rests in the perineum, or in layman's terms the gooch/taint.
The charging time is about an hour and a half in total for the Edge to be at full power, that'll give you anywhere from an hour to two hours of fun depending on the power levels you choose. Speaking of which, in typical Lovense fashion the Edge is Bluetooth enabled and can be synced up with the Lovense app for complete control over the vibration pattern and intensity of both of the included motors.
How It Works
I take good care of my heiny and take as many precautions as possible to protect it. This is why before I insert anything up my rear end I make sure to have enough lubricant on hand to get the job done.
Since the Edge is made of silicone, silicone lubes are to be avoided since they can damage the structural integrity of the toy. But, since this was an anal sex toy I needed something long lasting, so an oil based lube was the way to go. The last thing I wanted was for water-based lube to dry up and have a very slow and delicate removal process. I know what they say about ripping off a band-aid, but I can't recommend that philosophy when it comes to removing butt plugs.
Anyway, what I was most worried about at first with the Edge was that the adjustable head would move after it was inserted or because of the powerful vibrations. Pleasantly enough, this was not the case. Even after bending the metal frame back and forth repeatedly to check the integrity of the inner metal frame, it stayed at the angle I initially bent it to upon insertion because the pivot point is above the stem that connects the prostate massaging end to the handle end.
To that effect, the perineum end can be made perfectly flush with the body which makes this a shoe-in for public play. I've let Angela watch me squirm as she plays with the power levels on her phone using the app in public before. I didn't think I'd like it, but it was actually a great experience.
There's a little groove above the stem that helps to keep the toy in place after insertion, while the stem itself is small enough to cause minimal discomfort when in use. I found I was able to insert the toy and even stand up and walk around without worry. Next time I plan to have my phone close by before I shove it up my butt, but I digress.
It took maybe two or three insertions before I was able to find the angle that was like having a very tiny personal masseuse going over all of the sweet spots of my prostate. Before long, I was enjoying a full body orgasm that felt like it lasted for five minutes, but I can't say for sure since I was so absorbed in the sensations.
I like being able to choose the strength of both vibrating motors. The perineum vibrator stops just short of my scrotum, making for a really good time with the way the bulbous head conducts the vibrations through my body. Still, I find myself turning that motor off occasionally and just focusing on my prostate frequently.
Because this sex toy is app controlled, there's technically infinite vibration patterns as well as the ability to sync the Edge to music, so versatility is definitely on the menu, great for the most particular of male booty holes.
The following short video by Lovense will tell you everything you need to know about the Edge:
Do I Enjoy Using It?
The short answer is: yes.
The Lovense Edge is a very enjoyable prostate massager, and it has opened my eyes to a whole new level of orgasm. I never thought I'd say this, but for those that are unfamiliar or in-experienced using anal toys, listen up.
In my opinion, the prostate orgasm is actually better than a typical male orgasm (even from sex).
I was very apprehensive to start stimulating my prostate (otherwise known as the male g-spot) at first, however after several hours of nagging, my wife Angela was able to convince me to try using anal toys. I can confidently say that I'm very glad she convinced me to take my own anal virginity. All it took was a bit of lube and a bit of wiggling and I was off to enjoy all of the features the Edge had to offer. Of course, the fact that the toy is adjustable made it much easier to stomach since I tailor made it for my specific body shape.
After using the Edge, it's quickly become my favorite prostate massager (out of the two I've used). The ability to change the angle of the end of the toy ever so slightly is perfect for guys like me who have trouble getting the right kind of stimulation to what is affectionately referred to as the male G-spot. It is quite powerful at the higher settings, I would suggest you work your way up to it instead of going straight to max power unless you like living dangerously.
If you're considering the Edge, I will say I was taken aback by the width of the end of the toy, it is rather large, at least in my relative inexperience with prostate massagers. But with enough lubrication the soft silicone was comfortable and pliable enough, and luckily the stem is small enough in diameter to stay in place but not so large that it will cause inflammation or discomfort. It may seem intimidating, but it is definitely accommodating.
I was able to fit it inside my bottom without much trouble, even as a first time newbie. So definitely don't be too intimidated by its size. I can imagine some people would prefer to have manual control over the toy instead of having to use the app, but personally I find it great that I didn't have to stretch & contort myself to make slight adjustments to the device's power.
Also, when charging the toy via USB cable I highly recommend using a power cube instead of relying on drawing power from a computer.
Where To Buy It?
The only place I recommend anyone purchase any Lovense product (including the Edge of course) is from the official Lovense store.
As for the app, it can be found for free on the App Store for iOS or the Google Play store on Android.
The reason being is that they offer the lowest price I could find online, and they also offer free shipping. Not only that, but when you buy from them you can guarantee you'll receive an authentic product. There are tons of knock-off/fake Lovense products available online, so be sure you buy from a reliable source. If you misplace your manual, it can be found on the Lovense site.
In Conclusion
Whether you're someone who's relatively new to butt play like myself, or you're a seasoned veteran when it comes to anal toys and prostate massagers, the Lovense Edge is a toy that can be enjoyed by anyone who likes prostate orgasms. Out of the two different anal toys I've tried to date, it's without a doubt the superior toy (at least for me). It's angle and handle allow me to stimulate my prostate comfortably and easily. The sheer range of features and the ability to wear it in public thanks to the smart shape add even more reasons for me to reach for this toy.
The reason I like the Edge so much is because it allows me to very easily pinpoint my P-spot and easily stimulate it without losing the "sweet spot" which is something I experienced with the previous anal toy I tried (maybe just because I was and still am a newbie with butt toys).
I digress.
If you're in the market for a quality prostate massager, the Lovense Edge is one that I highly recommend. Want a powerful prostate massager with more features than you can shake a stick at? Well, you best pick up a Lovense Edge and get to charging, it's going to be a wild ride.