As a woman who's constantly clamoring for high class clitoral completion, my travels have taken me to places far and wide in search of the kind of toys that wet dreams are made of.
There are couple's vibrators that are meant to be used during sex, but they typically add unnecessary bulk and take up valuable inner vaginal real estate. When I saw the cutesy design of the Eva II, I knew this vibrating bug looking thing would be coming my way in a nondescript brown box in no time.
Would I catch Eva fever or would it quickly become forgotten at the bottom of my nightstand?
Design & Specs
That mustache looking green thing you see pictured to the left (or above if you're on a mobile device) is none other than the Eva II vibrator made by Dame Products.
Made from medical grade silicone, the Eva 2 is smaller than the Eva 1 making it lighter. By the looks of things, they just trimmed all of the extra room on the original that wasn't really stimulating much. Two colors are on offer, fir (aqua with more green than blue) and quartz (pinkish). I picked quartz personally for less contrast against my skin, can't say I hate on the fir color though.
Shaped like a Lego man's backpack or some kind of water bug, the two "wings" are meant to gently tuck under the labia so the toy can be positioned over the clitoris for use during penetration. If I really had to pick a name for it, butterfly vibrator would suit it nicely owing to the two arms that can be adjusted.
REVIEW SUMMARY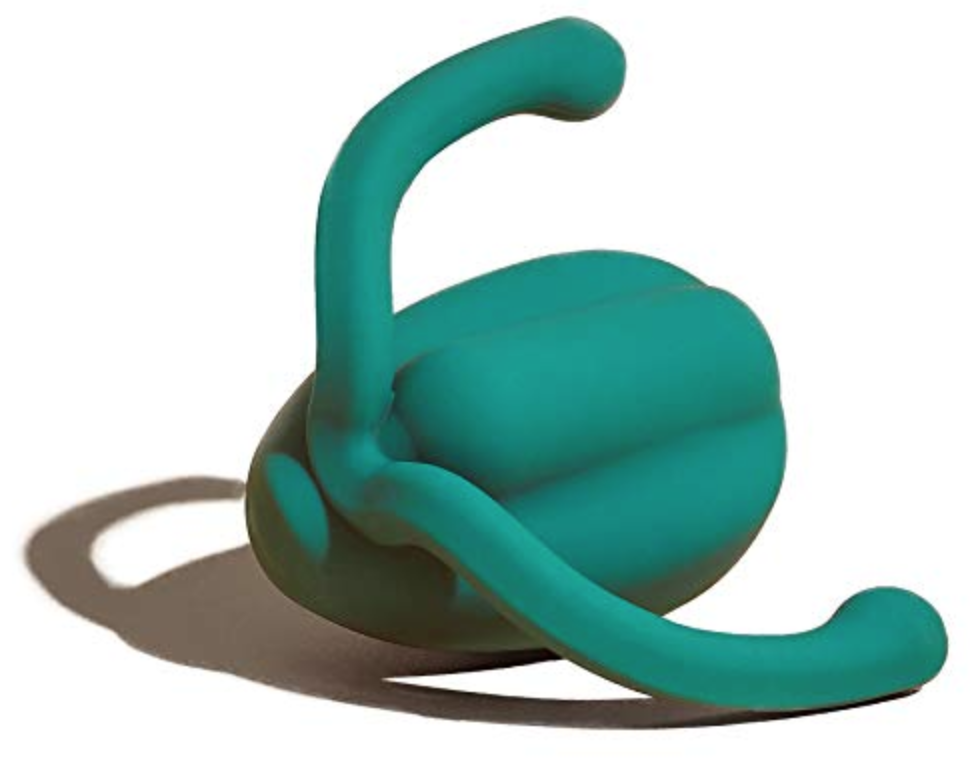 Dame Eva II
The Eva II bills itself as being completely hands-free and also requiring nothing else but the toy itself to get the full experience.
FEATURES:
Made from medical grade silicone
Two colors are on offer
3 different vibration settings
Get Dame Eva II and use DOCTORCLIMAX code at checkout for an extra 10% off
CLAIM YOUR DISCOUNT →
Get your own Dame Eva II and use code DRCLIMAX at checkout for a 10% discount
You like weird GIFs? Here's one of this toy literally jumping inside a cartoon vagina then cooling off for the day to charge overnight:
If you check out the official product page there's a lot more useful tips besides the oddly cute GIF.
The Eva II bills itself as being completely hands-free and also requiring nothing else but the toy itself to get the full experience. The experience it delivers would be three different vibration settings. Many people are unaware that large swaths of women absolutely need clitoral stimulation to get off. It's pretty easy to see that this toy has been designed as a way to level the playing field with regards to what she feels vs what he feels.
Included is a travel case that doubles as a place to store it while it's being charged. Surprising for a toy that's around $100, rarely do these "free gifts" come without a catch. I like it because I always wondered what toy manufacturers expect us to do with our as-clean-as-they're-gonna-get sex toys while we charge them, a case is much better than going through hand towels at my usual rate, so thanks Dame.
The wall adapter and satin pouch were extremely thoughtful additions as well, no more waking up and noticing my phone's adapter has been stolen by my husband for nefarious charging purposes!
Their description of the battery life is a lot better than other companies put in their manuals, as well. At the lowest of the three settings, expect 5 hours of battery life and 1 hour of battery life on the maximum setting. That means the medium setting lasts somewhere in between, just to give you an idea of how long this thing can keep going. Once it does die, it takes a little over an hour for it to spring back to life.
What else? Well, the toy is waterproof, a big upgrade from the original Eva that was only water-resistant. Shower, bathtub, lake, pool, it all works. Although I tend away from pool sex in general because of all the chemicals. Regardless, the sky's the limit here (or maybe the ocean, in this case).
How Does It Work?
Now came the time for me to see what this puppy was capable of.
I quickly learned that less is more when it comes t lube and the Eva II. Too much makes it too difficult to keep the toy in place. A teardrop's worth where the toy makes contact with the clitoris and half of that on each wing is pretty much the limit. Here's the "conventional" way of inserting the toy:
Not everyone has the same body, though. For instance my husband can't keep a pencil behind his ear, so here's some alternative ways to use the Eva that might compliment the user's biology if the first way doesn't work so well.
I often find myself using it in the upside down configuration since it was how I first envisioned using the toy. It is most secure on my body that way, too.
A dry run is highly recommended to get accustomed to inserting the toy instead of waiting to use it in the heat of the moment. Real life is often a bit less forgiving than fantasy, I think if I went straight for using it in a passionate romp I might have ended up getting a bit frustrated. Once I got the technique down insertion was no more than a 15 second ordeal. Although, I can't say I didn't pretend I was a little less experienced so I could wrangle my husband into trying to get it in for me, I'm a little devilish like that at times.
As far as keeping the toy inserted is concerned I found it pretty easy to zone out and enjoy sex as opposed to worrying about & micromanaging the Eva II all live long day. I absolutely did need to use a single finger to apply pressure to keep it in place during certain positions (especially when changing positions) but overall it definitely could have been much worse.
Fact of this matter is, it is the first couples vibrator I've ever bought for use during sex that actually doesn't really have a "no-go" list of sexual positions. That coupled with all of the other features advertised on their website made it all worth it to me.
The three patterns on offer are the average slow, medium, fast. I personally keep to medium and fast but I can see how slow would be nice for people who want to keep noise to a minimum. As far as noise is concerned it is noticeable on the high setting and to some extent the medium setting, but low isn't powerful enough to challenge a smartphone vibration to a fight.
My husband and I enjoy what this toy has to offer, it did its job in that it upped the amount of pleasure I felt while having sex as well as not being a burden that requires a lot of specialized attention. It's the best toy for the job when reaching orgasm at the same time is the name of the game, giving it a good purpose that not everything in my war chest can accomplish.
I also think the battery life is nice and convenient, consistently we've gotten anywhere from 2-4 sessions off a single charge.
Luckily, at the end of the day this toy from Dame was able to establish itself as a truly useful toy as opposed to a one trick pony that ends up losing its novelty after a few sessions.
Do I Recommend It?
You betcha.
The Eva II is without a doubt one of the most interesting vibrators I've ever owned.
Don't just take my word for it though, see what other customers had to say by reading verified customer reviews at the official Dame website.
Where's The Best Place To Buy It?
The best place to purchase the Eva II is by going directly to the official Dame Products website.
Especially since you can save an extra 10% off by using coupon "DOCTORCLIMAX" at checkout! Just click here to redeem your discount.
It just makes the most sense to go straight to the distributor on this one, unless you happen to live in a remote place of the world and are better served by someone who isn't based in the U.S.
For those in the U.S.A you can enjoy free shipping on the toy. Isn't it annoying to think you have everything budgeted out just to get slammed on shipping? Not this time!
Dame products isn't a behemoth company like We-Vibe or Lelo, in fact the only other toys we've covered from them would be the Pillo and the Fin. They're kind of like the craft beer of sex toys. Limited selection, but what they do decide to make has it's own distinct flavor you can't quite find anywhere else, the Dame Eva II being yet another example of their design philosophies.
Conclusion
It's safe to say that I think this toy has passed muster. It's small functional, and has just the right amount of power to do exactly what it needs to do. There's certainly more powerful clitoral vibrators out there, yet I'd say that's irrelevant seeing as the Eva II is more about bridging the orgasm gap as well as providing a great way to use a sex toy with a partner.
Most "couple's toys" are actually not so great for coupled play, they're usually too big to make things easier and too generalized to be memorable.
That's not the case for the Eva II.
If you have any questions about the Eva vibrator you can leave a comment down below and I'll get back to you as soon as I can.