If you're looking for an awesome vibrator that comes in a tiny, discreet little package?
The We-Vibe Sync is a dandy little vibrator that I've owned for quite some time now. It was my introduction to We-Vibe's line of sex toys and ultimately the reason why both myself and my husband have both purchased several more of their products.
It was based on the experience I had with the Sync that made me want to delve deep into their line. The Sync is a couples vibrator that I've enjoyed using with the help of my husband.
Just like you wouldn't buy the first, or maybe even the second hover car, would you? The same thing applies in the case of couple's vibrators, this product is on it's fifth or so iteration.
That's why you get the We-Vibe Sync, which has now bumped the We-Vibe 4 Plus out of production permanently.
Couples vibrators like this one are the kind that function during intercourse as an upgrade to the vagina itself, as opposed to non-augmented sex. Its U shape design is meant to be inserted with vaginal and clitoral arms in their respective places and is thin enough for your partner to enter underneath. Both people benefit from the vibrations and soft texture provided.
Is this just a re-branded We-Vibe 4 or something more?
OUR TOP PICK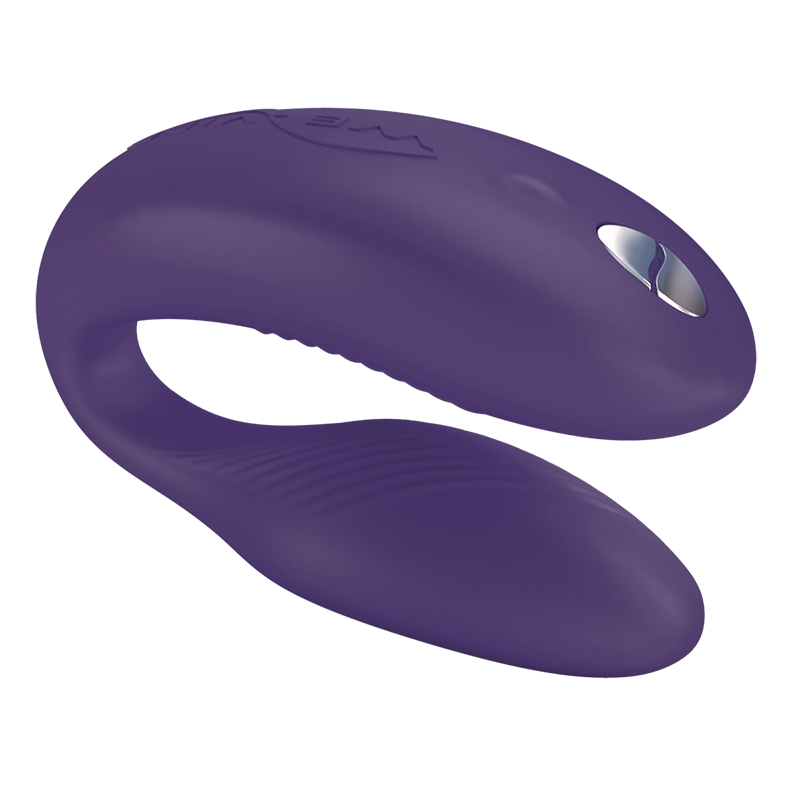 The Sync has a bendable design which makes it a couple's massager that can fit all body types.
FEATURES:
Strong vibration intensity coupled with an above-average battery life
Very satisfying to use during vaginal sex or for solo use
Get your own
We-Vibe Sync
today for the
lowest price
Specs & Design
The flagship We-Vibe, or at least the one that has given the brand most of it's publicity is on display in it's newest incarnation. The previous iteration was the We-Vibe 4 and the 4 Plus. Much like Windows operating systems and iPhones, sometimes you need to ditch numbers and pick a marketing agency approved word. We're post numeral, baby.
What is a couple's vibrator and what does it do?
Couple's vibrators can improve sex just for the sake of it, but for couple where one or both people don't have particularly sensitive genitals, the Sync can help lead to a more intense and satisfying experience during vaginal sex.
It's a body-safe silicone U shaped device meant to be worn by the woman during intercourse to increase the pleasure felt by both parties.
One welcomed improvement is the addition of extra pivot points on the device. The thing is with couple's vibrators, they tend to be finnicky. Certain positions are off the table entirely and it ends up making you hold back to keep the darn thing in place.
Simply put, most devices aren't dynamic enough to fit snugly over the clitoris and inside the vagina without sliding out of place. The toy can be bent at the beginning of either arm for a more tailored fit.
The ability to "sync" it with your body so precisely is the most easily noticeable upgrade from previous We-Vibes so I suppose they ran with it. I don't blame them, after a while numbers get stale and We-Vibe Longer Battery Life doesn't really roll off the tongue.
The battery lasts 90 minutes on a single 2 hour charge, meaning I've taken my fair share of showers that were a bit too long thanks to the waterproof case.
If app support is something really important to you, the Sync is compatible with the We-Vibe Connect app. Use of the app allows you or your partner to change how intense the vibrations are remotely. For the smartphone impaired, there is a remote bundled with the toy so it's not even entirely necessary to download the app. I personally think more toys should go with the remote route as opposed to spending tons of money developing an app on my phone that I necessarily even want to download.
What Does It Feel Like?
We-Vibe's way of making a toy vibrate is simply much different from other manufacturers and I'm not quite sure how they do it. It isn't so much as a vibration but a rumbly feeling.
If it makes sense, the bad kind of toy vibrates like those $15 massagers at the drug store while higher quality toys are in the same family as earthquakes and diesel engines. Knowing this, Don and I were excited to see what lay in store.
My Experience Using It
I prefer warming myself up a little bit before putting in the We-Vibe Sync, it can be a little uncomfortable if you go straight into it without prepping yourself first and getting a little more than just turned on. As long as I do that, it goes in smoothly and I can turn this sucker on. Even without a partner or another toy,
I find the Sync fun to wear and adjust using only my smartphone for autonomous masturbation. There's a dizzying amount of options to run through and all of them are worth exploring to find the pattern that really gets you off. We-Vibe is notorious for vibration quality and intensity among their entire line of products.
Unfortunately I'm not entirely sure how much of a step up on the previous models this one is as I can't get my hands on one, but even if its an improvement of 5% there's some 4 Plus owners surprised things could get even better.
For sex, it can get a little tricky sometimes. Keeping the Sync on the right parts of the female anatomy is paramount to getting the most out of this device. Missionary and woman on top are the safest positions to try without spending half of the time readjusting your Sync and killing the mood.
If time is of the essence I grab the Sync off the shelf and my husband and I become very sexually satiated very quickly. Not to say it's a bad choice if you're able to prolong orgasm and use the device in a push and pull kind of fashion to create tension, but I personally enjoy an occasional knee-buckling quickie.
Don's Experience - (Written by Don)
So typically using this thing means I'm going to have to use a little bit of lubricant, I prefer when the underside that comes in contact with my body is perfectly slick, otherwise I have trouble focusing on the task at hand.
I know for a fact it does more for her than I does for me, but the vibrations are very pleasurable and I know for a fact I don't last as long when we use it. It stimulates my wife in such a way that she's much more aroused and that pays off for me in the end because she's much more fun the more excited she gets.
Where To Buy It?
If you're interested in getting a We-Vibe Sync of your own, the best place to pick one up is the official We-Vibe store.
I'd strongly advise against buying the We-Vibe Sync anywhere else online, since I've heard you can run into warranty troubles with toys bought from elsewhere. It's rare but you should always make sure your warranty is valid when buying anything online in case you end up needing it.
Be sure to only buy from reputable retailers if you decide to shop online.
Conclusion
Out of all couple's vibrators current available on the market, the Sync is one of the most interesting cutting edge wearable sex toys. As they frequently update their models, I expect that in a year or two there will be yet again another upgrade as We-Vibe tries to remain the most recent and relevant sex toy manufacturer for couple's vibrators.
I thoroughly enjoyed the variety of settings on display and found only minor complaints with my use of the toy. If you absolutely hate using lube, then I would recommend staying away from the Sync at least for sex since it is essentially necessary if you want everybody to be having a good time.