As fun as dildos and vibrators are, they still lack one thing missing from real sex: the right motion. So that's exactly why sex machines are such a popular item: they can help take the masturbatory experience a lot higher by bringing in the proper locomotion.
The sex machine in I'll be reviewing today is the Hismith Premium Sex Machine. As a brand, Hismith has a whackload of different machines available all with their own different quirks and uses.
It's perhaps the most effective use of space I've seen out of any sex machine while being able to offer as much as it does. Nearly as position can be easily worked in with just a little bit of effort and it fits easily into just about any closet out there.
REVIEW SUMMARY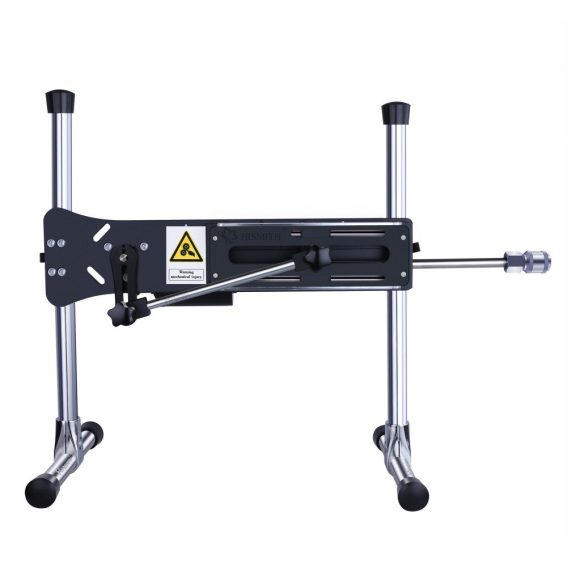 Hismith Premium Sex Machine
If your'e looking for a new sex machine to spice things up in your life, the Hismith Premium Sex Machine is a product that definitely meets the mark
FEATURES:
There are two adjustable "legs"
Best value for price sex machine out there
A compatible 6 inch dildo comes free with the machine
Use code: DC10 to save 10%!
CLAIM YOUR DISCOUNT →
Get your own Hismith Premium Sex Machine and use code DC10 at checkout for a 10% discount
What Is The Hismith Premium Sex Machine?
Use code: DC10 to save 10%!
There are three main parts to this machine, on both sides there are two adjustable "legs" that function to both keep the machine itself secured to the ground but double as a great way to change the angle of penetration while in use.
At approximately $400 it's hands down the best value for price sex machine out there, most similarly priced machines are either not nearly as powerful, have a much worse range of motion, and are just plain lacking.
The middle portion of the Premium Sex Machine houses the motor and piston which you can use to attach the sex toy of your choosing. A compatible 6 inch dildo comes free with the machine, it's even silicone based which ticks off the body-safe necessity all good sex toys should be able to do.
Out of the box it will accept any Hismith toys that make use of their special KlikLok system although there are adapters available that open up the possibility of using any suction cup dildo or Vac-U-Lock style sex toy.
At first I was a little miffed that there's yet another proprietary design that I'd have to work around but the benefits of KlikLok are pretty apparent: KlikLok works to keep a sex toy secured much better than any quick connector style attachment system. When you're dealing with the speeds and roughness possible through this sex machine it really pays to have the peace of mind that your toy won't be going anywhere.
When it comes to size it is a very diminutive 18.4 inches x 10.2 inches x 17.7 inches. That means it's just a foot and a half long lengthwise, 10 inches wide from both ends of the "legs", and just shy of a foot and a half long tall. That makes it ludicrously easy to store & use. Because of this you might need to use a table to brace the machine on if you're going to get creative, but in general it's quite small yet quite powerful.
The metal bars used are actually fully solid steel bars and not dinky hollow beams. This allows it to stay firmly in place as opposed to getting thrown around by it's own motion.
Changing the angle of the toy is just a matter of changing where the motor portion sits on either of the legs, so it's easy to say there is a full 360 degree range of motion available with enough adjustment. On both ends of the legs there are rubber end caps that have some great gripping power even if the weight of the toy is distributed a little unevenly depending on your setting.
For reference's sake, it's 25 pounds so moving it around isn't too much of a chore while still giving it enough heft to keep itself in place even at max power.
Speaking of the power available, it can offer anywhere from 0-240 strokes per minute (that's up to four strokes per second) with the range being insanely delicate for those who want to find their perfect speed, and anywhere from 1.2 inches to 6 inches in stroke length.
One surprising aspect of this machine is how much effort went into keeping the toy quiet. With a maximum power output of 40dB I actually own vibrators that are more louder than the Hismith at 55dB. For the curious, 40dB is about as loud as a whisper. So for once I'm laying hands on a "whisper quiet" toy that actually falls within the decibel range to back that claim up.
Another worthwhile feature of this toy is that besides the wired control panel you can use to turn it on/off as well as control the speed using a dial, everything can be controlled via a convenient remote control as well.
I don't recommend changing the stroke length while the toy is in use but go ahead and figure out what speed works best for you through trial and error.
A recent addition is also the ability to better control the machine in use with your smartphone. Compared to the remote control a much more specific degree of control is available by using the app instead of relying on the remote alone.
So that's the nitty-gritty behind everything the product has going for it, now let's go over what it was like to actually use the sucker:
My Experience With The Hismith Premium
At this point I have so many different toys on the way on such a consistent basis that I often don't know what I just received until I actually take the time to open it up. The discreet packaging of this product was apparent, it was just a non-descript brown box with no labels to speak of that would give away what's inside.
After opening it up it still had me a little confused, all I saw was the metal connecting rods at first but after digging through the package I knew what I was now dealing with. A little bit of assembly is required, luckily all of the tools necessary to put it all together come right in the box which in reality is just a simple Allen key to tighten everything into place.
I'd say that it took me about ten minutes to get it all put together in it's default state, with any adjustments to the angle of insertion taking less than five depending on how crazy I wanted to go.
Full disclosure, I also purchased a suction cup adapter since I have a sizable collection of suction cup style dildos which brought the price up by about $25.
Out of the box the easiest position to try out is doggystyle since any of the dildos I'd choose would be sitting at a 90 degree angle. As far as that was concerned it was really easy to adjust the stroke length as well as the speed using the accompanying remote, but the dial itself was also nice since it allows for much more minute adjustments than the remote control does.
I noticed two important things right out of the gate: firstly you should always make sure your toy is properly lubed up before you get going since the toy is absolutely powerful enough to force itself further inside of you despite how much resistance is offered by your body. I used one of Don's Fleshlights to test this and I think I could have chewed it up pretty badly had I not stopped when I did. So long as there's enough lube from the get-go you won't be having any issues.
Secondly, I highly recommend that you start on a lower stroke length before going all the way up to the maximum of six inches. While it might seem tempting to go straight for some hard and fast pounding there's only so much your cervix can handle: get used to a shorter range of motion before moving up further so you can better work with how the toy moves.
Even at the maximum setting this toy wasn't moved whatsoever by motion at the max speed & stroke length. I'd imagine the steel rods as well as the rubber stoppers on the machine are what guarantee this. It really did make a fool out of me as I thought it was practically guaranteed to take a stroll around my living room when I gave it a go at full rip.
If you do move this toy around you can further guarantee no unwanted movement by putting down some sort of fabric on top of the surface you've placed it on. Whenever I used it on an end table I just put down a few washcloths which was enough to give it the grip necessary to stay completely anchored.
All of the sex positions I tried it out with were extremely pleasurable and I personally love having the remote in one hand to keep things a little varied so I don't fall prey to any monotony. For any position that involves the machine thrusting upwards I needed to take out the other leg and have it change sides so both legs would be on one side with the actual Hismith Premium Sex Machine in the middle. This took a little bit more time so I don't use it extremely often this way but it was satisfying nonetheless.
All in all I found that it was very easy to make small adjustments as necessary and then re-tighten the machine as needed.
What's Included?
Inside the box of the Premium Sex Machine the following items are included:
Main machine (motor)
Allen key
6 inch silicone dildo
2 T-braces
4 Support rods
1 Wired speed dial
1 Power supply
Remote controller
App chip machine
Portable bag
All of this comes in a nondescript brown box with no indication as to it's contents, shipping is as discreet as can be.
Where's The Best Place To Buy It?
Going directly to the Hismith website is what I recommend most for anyone who's looking for their very own Hismith Premium Sex Machine.
If you use our coupon code "DC10" at checkout, you'll save 10% off!
An added benefit of using their official website as opposed to Amazon is that you can make use of their expansive list of compatible dildos if your current favorite isn't going to be compatible.
Surprisingly their sex toy collection is pretty impressive and also pretty high quality. Everything on offer is made from body-safe silicone all at an agreeable price, in fact some of the dildos I looked at cost slightly less than similar options on other websites.
The reason why I was so impressed by this is that usually most sex machine manufacturers artificially inflate the price of most compatible toys they sell since they're the only option if you want more variety for that particularly machine.
Out of all sex machine manufacturer's I've looked into, Hismith does the best job at having an easy to use website that's full of reasonably priced accessory products on top of their line of sex machines.
Use coupon: DC10 to save 10% off!
Summary
If your'e looking for a new sex machine to spice things up in your life, the Hismith Premium Sex Machine is a product that definitely meets the mark and then some.
At no point was I worried about the safety of the Premium Sex Machine nor was I ever aggravated with the many different ways you can adjust the speed settings on offer. Hismith is also particularly trustworthy in the other products they have since they check off all of the boxes I have personally with regards to being body-safe and fairly priced.
In short, if you want a modestly compact sex machine that is useful for every position out there and can move in every way you'd possibly want, then Hismith is the way to go.