Date Purchased: January 1st, 2019
Made from body safe silicone
Very strong vibration intensity
Wide range of settings and modes of stimulation
Angled excellently for beginners who might have difficulty finding their prostate
Dual controls - remote or on toy itself
100% waterproof
Comes with a pretty high price tag
The remote control requires 2 AAA batteries
What you need to know:
The Lelo Hugo is up there as one of my favorite prostate massagers of all time. It's rivaled only by the Lovense Edge.
The Hugo has a motor in both the perineum end as well as the anal end for dual stimulation in a way that really helps bring me over the edge into the blissful state that comes with a great prostate orgasm.
Because of it's gentle curve and wide size at the end I'd highly recommend it for anyone who's been having issues stimulating their prostate normally. Compared to the other massagers I own it takes significantly less time to hone in on my pleasurable spots and really give myself a time worth remembering.
If I was stranded on a desert island with just the Hugo and a way to charge it, I'd be more than happy for quite some time.
MSRP: $279.99

Now: $237.15
Today we'll be focusing on none other than the Lelo Hugo.
It's a toy that's a fairly big departure from me as far as sex toys go but I'm starting to accrue more of these kinds of products into my repertoire and dare I say it, I'm really enjoying it. This kind of sex toy is none other than the prostate massager.
A prostate massager is different from other male masturbatory aids because they don't focus on the penis, oh no, they certainly do not.
Prostate massagers focus on being placed up the male anus and going up to about 4 inches deep enough to tickle the prostate gland which is an insanely pleasurable experience, to the point where it is nearly always referred to as the male G-spot.
Let's get into the review!
My vibrating prostate massagers tend to have enough strength on the business end and a base wide enough for you to not have to worry about having a foreign object trapped up your bottom.
The Hugo prostate massager is made by luxury sex toy brand Lelo and definitely fits the bill, as all of their toys are of very high build quality.
There's not only a vibrating motor in the end meant to be shoved up the rectum but another at the tip of the base that sits directly over the perineum (the gooch in layman's terms), so you're pretty well cared for.
Let's go over the Lelo Hugo, from tip to tip.
REVIEW SUMMARY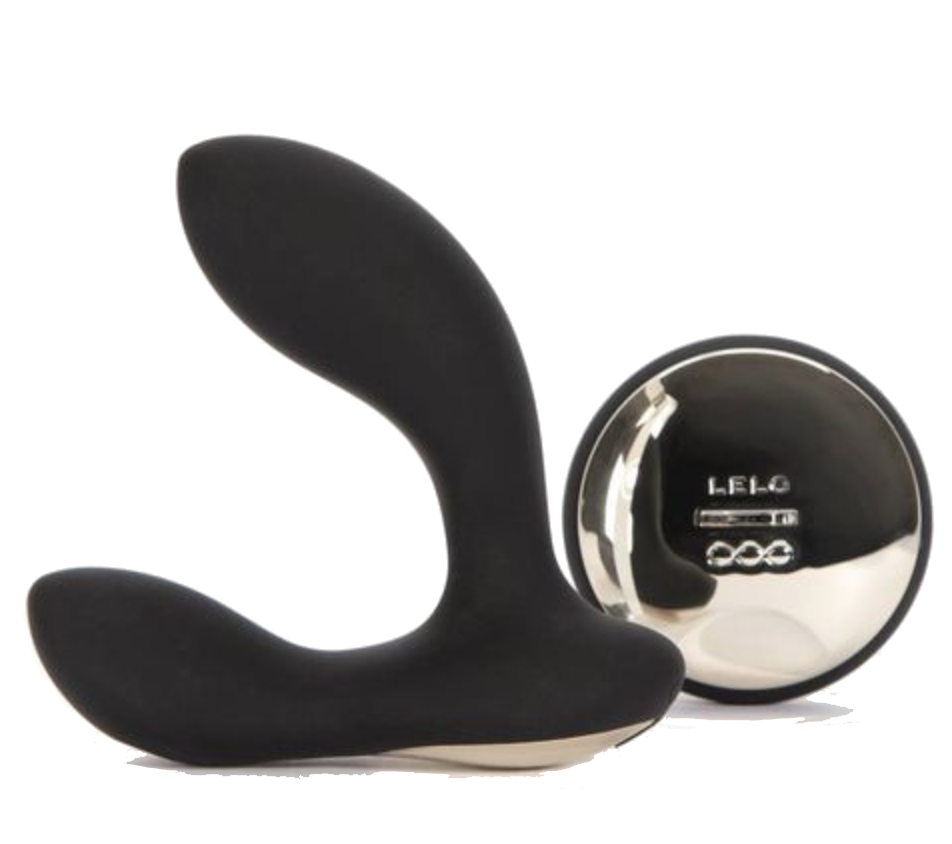 Lelo Hugo
Lelo Hugo is comfortable and it offers extremely powerful vibrations.
FEATURES:
Made from body safe silicone
Dual controls - remote or on toy itself
Wide range of settings and modes of stimulation
Get a 15% discount using code: DRCLIMAX
CLAIM YOUR DISCOUNT →
Get your own Lelo Hugo and use code DRCLIMAX at checkout for a 15% discount
Lelo Hugo's Design & Specs
Okay, so the Lelo Hugo is constructed entirely out of silicone minus the ABS plastic portion on the bottom that houses some of the controls like how you turn it on and off.
Hugo also comes with a remote control so you can adjust the settings without having to crane your arm into an uncomfortable position just to switch things up a little. The remote control allows you to cycle through 8 different adjustable settings that change the intensity of the vibrations that go through both of the motors as well as activate Lelo's SenseTouch mode which I'll touch on in the experience portion of this review.
Your prostate, as well as your perineum, can be massaged (or just one or the other) with proper fiddling of the controls, so it gives for a very well-rounded experience. It isn't difficult to find the right combination of vibrations that compliment your prostate and perineum at the same time so long as you fiddle with the remote a bit.
The Hugo is completely waterproof meaning you can take it into the shower with you for cleanliness and lubrication's sake, another big plus in my book.
The fact that Lelo has made the Hugo waterproof is also a huge win for clean-up. It makes cleaning the Hugo much easier compared to other prostate stimulators I currently own.
The Lelo Hugo is considered to be a medium-sized remote control prostate massager that isn't particularly long or bulky, and it is completely smooth with no textures or odd bumps or ridges anywhere on the toy, so it's perfect for those who want a moderately vanilla, middle of the road experience as possible with a prostate massager.
The Hugo stands at 4.5 inches tall with something around 3.5-4 inches of insertable room. The way it curves is designed to sit on top of where the prostate gland protrudes into the male rectal cavity, and at its size, it should do a fairly good job of that for the majority of men.
The Hugo looks very similar to his brother Bruno, to the naked eye the two look identical. The Bruno is essentially the same as the Hugo, however, it doesn't come with the remote which is included with the Lelo Hugo.
The Lelo Hugo is probably the most popular anal toy currently on the market, as it has hundreds of positive reviews from users on both the Lelo website but also on Amazon (which is actually extremely rare as most sex toys on Amazon have mediocre user reviews). What people like the most are the high vibrations attainable as well as the ease that's brought along by the inclusion of the remote control.
How Does It Work?
Lelo created a very handy video which walks you through all of the features of the Hugo. It also explain how it works!
Battery Life & Charge Time
The device itself is rechargeable with a lithium-ion battery however the remote requires two AAA batteries that are supplied with the product, however, you'll need to replace them after awhile.
I peg the rechargeable battery's life of the Lelo Hugo at somewhere between 2.5 to 3.5 hours total (depending on which settings and the strength of vibrations you're using) and the recharge time is somewhere in the realm of 90 minutes. Pretty standard battery life for a rechargeable and charge time among most prostate toys. Since prostate orgasms take much longer than a traditional orgasm, a long battery life is completely necessary in any good prostate massager.
What I liked about the Hugo, was that it pretty much either worked at full capacity or not at all. There's no worry that when it's at half battery life you'll only get half as much power as you should. It charges via USB and like usual I recommend putting it into a power cube hooked up to a wall as opposed to plugging it into a laptop if you want it to charge as quickly as possible.
When you initially unbox the Hugo, you're going to need to charge it since the toy will only be partially charged from the Lelo warehouse.
I'll be honest, and this is a little bit embarrassing to share and probably TMI, but when I received the Hugo, upon unboxing it, I was so eager to play with my new toy that I actually plugged the toy into an extension cord and used the toy for the first time while it was plugged into the wall charging.
It was then when I realized that the Hugo is capable of being used while it's charging. Although, after doing some Googling, I learned that this likely wasn't the best idea for preserving the rechargeable battery over time and it might mess with the intensity of the vibrations.
Remember: Always Use Water Based Lube
Something I'll say until I'm blue in the face is that you've absolutely got to use water based lube with the Lelo Hugo. Like other toys made from silicone, any other option runs the risk of permanently disfiguring your toy with silicone based lubes being the biggest offenders.
Silicone based lubes tend to work great for anal sex because of their longevity and slickness, but they are unfortunately chemically incompatible with silicone based toys.
What Comes In The Box?
The Lelo Hugo comes with all of the following items inside the box:
The Lelo Hugo prostate massager (obviously)
The wireless remote control
2 AAA batteries for the remote
A small plastic key to open the remote
A USB charging cable
A small sample packet of Lelo's proprietary lubricant
A satin storage pouch
The user manual
A Lelo warranty card
All of these items are pretty standard among prostate toys. Nothing really that special here.
My Experience Using The Lelo Hugo
Now is the part of the review where I'll walk you through my experience using the Hugo and what its vibrations did to me.
I'd say choosing the name Hugo was a fairly risky move for Lelo, as I know a lot of men are apprehensive about prostate play because of their sexuality and having a sex toy named after a man may set off some bells in the less secure among us.
I'll be the first to tell you that exploring your body and enjoying all of the sensations available to you does not make you a homosexual or less of a man, it only makes you more in tune with your needs. Also, some people may be worried that Hugo is clever wording for "Huge-o" but the toy is intermediate level in girth, not particularly massive.
Now comes to how I used it. Before I ever give a prostate massager a go, I always make sure it is properly lubricated because the last thing I want is to tear myself a new butthole. A little more prep is needed as I always make sure the remote has a working set of batteries.
As this is a silicone based sex toy, you should only use a water based lubricant as silicone lube will slightly decompose your toy and oil-based lube should stay out of your unmentionable region. This is one of the few times where over-lubricating isn't really much of a worry, and with water based lube it'll even out to the right level of lubrication after some time anyway.
First, upon inserting the toy fully, I noticed that it sat perfectly around my prostate gland. It's curved almost flawlessly to deliver sensation to my prostate gland in ways few other toys manage to do and is wide enough for the vibrations to travel exactly where they need to go but not much of anywhere else. Another fantastic feature of the Lelo Hugo is the built-in perineum vibrator. For those that haven't experienced perineum stimulation, let me tell you, it feels great.
Instead of having to crane my arm around my back to change which vibrations I'm enjoying, it's rather easy to change the settings using the remote. For me, this makes it easier to get used to some of the high settings since I can be in as comfortable a position as possible before changing the settings.
The base is securely attached to the prostate arm and I never once felt like it was going to snap off or move while in use. The base is also slender enough for me to have it in comfortably for a full session of prostate play.
The tapered neck of the Hugo makes it the perfect sex toy for wearing just about anywhere. My rectum tightens up around the base of the shaft of the Hugo and I'm able to walk around the house wearing the toy without it ever sliding out. I've worn the toy in public a couple times and also several times while driving on long car trips (it makes the journey much more interesting, however, you'll want to pull over before orgasming - I don't recommend wearing this toy while driving, for obvious safety reasons). That being said, there's never a bad time for prostate play.
Noise wise I was able to keep the vibrations at around 75% of their maximum strength while still maintaining discretion while outside the house.
If you're looking for a prostate toy which you can wear in public or just about anywhere, the Lelo Hugo is the product I'd recommend.
Settings & Modes
The two motors are as powerful or as soft as I'd like and I really enjoy being able to use the remote control to change the settings of the vibrations on the product so I can stay in whatever position tickles my fancy the most without having to adjust myself. As for the controls, the 8 different modes provide a good variety in intensity and style of vibration on both my prostate gland and the area right under my penis. The extra vibrations from the second motor on the base of the toy really add to the pleasure factor and I find it hard to choose my toys that don't include one now after trying the Lelo Hugo.
There's also SenseTouch mode. The way SenseTouch mode works is that the more you move the remote, the more it vibrates. Let me say that Angela had a fantastic time dancing around the room trying to shake it as much as possible while I gasped for air on the bed well on my way to a hands-free orgasm. It isn't great for me to use personally, but I personally love the way Ange's face lights up when I let her know she gets another go. I think next time she's going to put it on top of the laundry machine and see what happens to me. Gotta love her for that creative energy.
All in all, it's a fantastic prostate massager that I found covers all of the bases a prostate massager should with little to no issues to speak of.
Cleaning Up
Once you're done the Lelo Hugo is ludicrously easy to clean. Mostly because the toy is 100% waterproof.
Just run it through warm water with some soap and you'll be good to go. Make sure to give a little bit of extra attention to the grooves where the silicone meets the plastic portion on the bottom to get anything that may have become trapped there, but besides that, you're laughing.
I really wish more products in this category were waterproof like this one, it makes clean-up 10x easier.
Where I Bought It
I bought the Lelo Hugo directly from the official Lelo store. They offered the lowest price I was able to find when looking for the best price online and I also received free shipping with my order.
Lelo will even allow an extra 15% off by using coupon code "DRCLIMAX" at checkout. Click here to redeem!
I always buy all of my Lelo toys directly from their official website because due to the popularity of the Lelo brand, they have been the victims of mass counterfeit production over the years. You can still find fake Lelo products online from what I hear so if you see a price online that's too good to be true, it likely is.
Always buy your toys from reputable retailers whether they be online or offline vendors.
I really wouldn't recommend buying the Hugo (or any other sex toys for that matter) from sites like Amazon, since they use third party sellers to fulfill orders. This means there is the potential to receive a fake product.
Do I Recommend It?
To sum up this review, I'd recommend the Hugo to anybody looking for a prostate massager that is both comfortable and offers extremely powerful vibrations.
I frequently use the Hugo for hands-free, body pounding orgasms that I more often than not have to sit down for. It's an alright choice for beginners as well because it is completely smooth, curves gently and is of moderate girth. Those with a bit more experience will be best served by it, but there's no reason to steer clear if you're a newbie to prostate play.
Don't just take my word for it! Other people found that the Hugo has a lot going for it as well, check out what they've said about the Hugo by reading verified customer reviews at Lelo!
Conclusion
The Lelo Hugo has quickly become perhaps my favorite toy for my prostate and it's a product I'm going to continue to experiment with further. It's easy grip and comfortable design allow me to massage my prostate comfortably, and overall provides some toe-curling orgasms.
As far as prostate stimulators go, the Hugo is definitely one of my favorites. While the Lovense Edge will always hold a special place in my heart, since it was the first prostate toy I tried, the Hugo is the one I reach for most often these days. It's slightly above average size and easy to use remote makes it a great option. I'm personally a big fan of prostate massagers which are on the larger side because I find them the most satisfying.
The Hugo checks all of the boxes in terms of what I look for in a prostate massager that I think will be worth my time.
I hope this review aids you in your search for the perfect prostate massager. Leave a comment down below if you have any questions at all!