The Stoya Destroya is one of the most popular Fleshlights that is currently being sold.
Here's a brief history of how the sleeve came about.
The original Fleshlight patent dates back to 1998, a full 21 years ago. The patent filing refers to the toy as a "discreet implement for sperm collection" and while technically true I love whenever fancy language is applied to raunchy situations.
They've had a lot of time to perfect their craft since then, when you're the best selling male masturbator of all time there's no shortage of research data to rely on.
After a while and presumably making literal boat loads of money, Fleshlight decided to up the ante by introducing their Fleshlight Girls line.
What makes this line so special is that all of the usual Fleshlight orifices (vagina or butt) have been molded directly from the body of a prominent female pornographic actress (or similar sex-inclined influencers) with the help of former Disney modelers.
A cast is taken, then imperfections are rounded out in a post-production stage to make sure everything is represented properly. The finished product is a true to life replica of the vagina of the actress that has been polished in a way to not come off as garish.
One of the most popular sleeve designs out of all the Fleshlight Girls is the Stoya Destroya.
OUR TOP PICK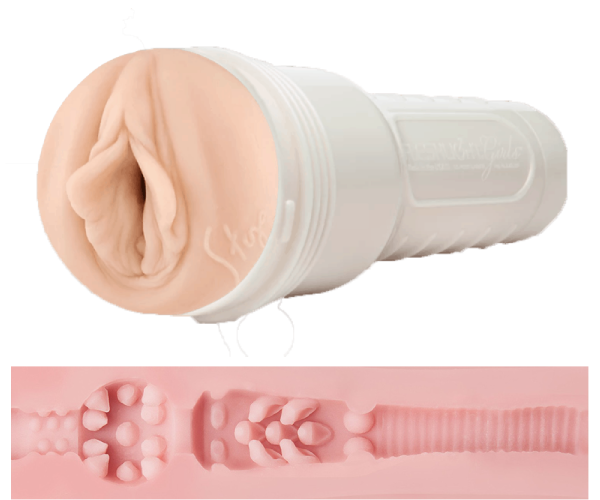 The Stoya Destroya has been the best-selling Fleshlight Girl sleeve for many years.
FEATURES:
Tapered sleeve becomes more impressive the deeper you go
Amazing stimulation within each individual pleasure area
Get your own
Stoya Destroya Fleshlight
and use
DrClimax10
code at checkout for an extra 10% off
Stoya herself has said she still laughs about the name to this day in interviews. When asked about whether or not she thinks this type of toy commodifies women, she replied that she felt empowered because fans of her work were explicitly seeking her out when making their purchase. She said it was a nice thought overall and a lot less degrading than some other things she's privy to after working in the industry.
So while it can empower women, can it empower the male libido?
Design & Specs
Any of the sleeves available through Fleshlight Girls come in a standard full-sized white Fleshlight case. This case is 9.5'' long with 8.5'' of the internal space usable.
That should cover something in the realm of 95% of men out there, so a very small subset of the population won't get to know what its like to go balls-deep in their favorite pornstar. After a certain point, being extremely well-endowed can start to seem like more of a curse than a blessing, eh?
Now you might notice that most male masturbators out there don't have a case at all. They're often skin-colored cylinders where extra pressure can be added by tightening your fist in use.
That's all fine and dandy, but Fleshlight has shown time and time again that they won't stop until they've truly reinvented the wheel. The benefits of the case are quite numerous, with each one just as significant as the last.
Firstly, since the toy can be entirely sealed it is a much more sanitary option overall, this isn't an open-air vagina marketplace after all.
Secondly, the cap at the far end of the toy functions to control the amount of suction the toy produces with each thrust in and out. It functions in a way similar to a Chinese finger trap, the fact that you can change the amount of suction on the fly means that each individual session can be different from the last.
The suction effect feels absolutely fantastic, it doesn't really come off as a distinct localized feeling but instead like your entire manhood is getting rubbed just the right way.
Now for the sleeve itself. If you choose the Butt orifice over the Lady, know you'll have a slightly tighter entrance since the butthole isn't exactly known for its accommodating nature.
The internals have a lot of structures that are unique to this sleeve and this sleeve only, it is perhaps one of Fleshlight's most experimental sleeves and it ended up working out perfectly for them.
Shortly after insertion there's a pleasure dome full of slightly pointed protrusions, I call this the head-zone because how it feels on the glans of the penis makes you consider whether or not you'll continue to use the rest of the toy.
From there the sleeve gently tapers down and becomes tighter as you approach the end. Before that though there's the part of the toy that makes it earn the Destroya name. There are long poles that come from the middle of the sleeve that rub along the entire outer shaft, they're specially designed so there's lots of action on the head of the penis with every return stroke.
Here's a fantastic video which will show you the Stoya Destroya in all of her beauty (in 1080p):
Coupon code: "DrClimax10" (10% off!)
My Experience Using It
From time to time, a Fleshlight Girls sleeve will be discontinued either because of poor sales or to make room for newer actresses to have their turn. Out of all of their sleeves, I don't think the Destroya will be discontinued ever. It is perhaps the most talked about FL Girls sleeve on the internet, perhaps even the most talked about sleeve in general. That's exactly why I refused to let this sleeve pass by unnoticed by myself. I know, the sacrifices I make in the name of this website are numerous, no need for applause.
I pulled out all the stops for this one. Instead of my usual choice of whatever the hell lube I have laying around, I went with the Fleshlube Water option. It's completely water-based so it doesn't damage the sleeve and washes out easily.
After using it in this toy, I can definitely say that Fleshlube did tailor the individual ingredients to work well with their special blend of Superskin material, for water-based it was surprisingly long lasting and not sticky when used in this toy.
The only other sleeve that can even rival the unabashedly pleasant Destroya in my opinion is the Fleshlight STU, that's to say the Destroya is one of the few Fleshlight sleeves that can actually go past just "a nice upgrade" and into "holy crap this is good!" territory. I'd say Riley Reid's Fleshlights are in the same category.
The sleeve starts out extremely strong with the not-so-tight pleasure dome section immediately after the entrance. It massages the tip of my penis in a way that covers the entire head and even dabbles with the banjo string in a way that often requires me to continue on unless I want it to be a quickie. This less-tight area can always be felt at least somewhere on your shaft no matter how deep you are. That means that unlike some other sleeves that try to be as powerful as the Destroya there's always distinct feelings on the penis instead of it all just feeling like miscellaneous good times.
The further you go, the tighter Destroya becomes. With the suction cap almost entirely fastened, I swear I can feel the blood engorging my manhood as I thrust along merrily. The suction cap does amazing things with this toy around the part where the longer protrusions come into play. With each return stroke my glans gets a little more filled with blood and passes over parts of these protrusions meant to take advantage of the increase sensation caused by the increased blood flow. I can't keep at it for longer than 10 minutes at best before I have to deal with clean up.
Do I Think It's Worth Buying?
After thoroughly exploring the sleeve for all it has to offer, I can see why so many people love this sleeve. It's varied, intense, and completely unique compared to most other sleeves that are a lot less daring in design.
Pro-tip, when ejaculating into the toy some short back and forth movements to let the final ridges and valleys treat your head mid-ejaculation makes for a post-orgasm glow instead of my usual desire to get the thing cleaned up immediately. Still, don't ever let the feeling of satisfaction keep you from cleaning you toy immediately, it'll last longer and not be absolutely disgusting that way.
To sum it up nicely, I'd say the Stoya Destroya is responsible for at least a few liters of my man milk getting the privilege of seeing the light of day. It's definitely worth the price I paid for it and I don't regret buying it. Therefore, I feel very confident recommending it.
Where Can You Get One?
The official Fleshlight website is the only place I'd recommend buying your sleeves from. This way you're getting your goods right from the source, no unnecessary markups and you get the benefit of their very agreeable shipping terms. How agreeable? Well, as long as you're buying more than just a bottle of lube it is pretty much guaranteed you'll qualify for free shipping.
Also this way you can guarantee you'll receive a genuine product as opposed to a Chinese clone. The clones are numerous and worse in just about every way, I really do wish I kept the picture of the "Flushlight" a reader sent me a while ago that they received from a less than scrupulous site.
The official Fleshlight store is also eligible for coupon codes, of which we have our very own that entitles anyone who uses it to 10% off.
Use "DrClimax10" at checkout to reap the rewards. Click here to redeem!
Positivity surrounding masturbator has grown in recent years, it'd be foolish to not give Fleshlight at least some of the credit. Their toys are thought out with the same level of care and expertise that any industry-leading brand name aught to have and they even help avoid Death Grip/uneven penis desensitization. Sex toy or health product? You decide, I'll be busy with more carnal pursuits while that gets figured out.
Conclusion
In a world filled with subpar masturbatory aids, the Stoya Destroya is the kind of male masturbator that every cheap sex store pocket pussy wants to be when it grows up. It's an absolute crowd-pleaser of a toy with the moxie to back up its buzz.
Stoya herself said she once used it on one of her lovers during a sexual encounter. Imagine being the guy that had a true to life replica of Stoya's vagina being used on him by Stoya herself. This, ladies and gentlemen, is why I fully believe that we live in the greatest timeline.