If you're looking for an honest review of the Lelo F1s male masturbator, you've come to the right place.
I was lucky enough to receive the F1s before its release and was tasked with testing it and providing honest feedback to Lelo about my thoughts after using it.
Here's my experience and a full review to help you decide whether or not its worth buying.
The automatic masturbator has changed how I view male masturbators for the better. Ever since my first one, the Max 2, I've been consistently impressed with how other manufacturers have stepped up to the plate to make their own toys stand out.
The Onyx 2 has it's special 10 ring design and doesn't need to be moved around, the Autoblow AI has machine learning capabilities and a focus on fellatio, and nearly all of them come with some level of Bluetooth/app support by now.
Lelo now has a contender of their own when it comes to the title belt of most worthwhile automatic masturbator. This is of course the F1s, available in both a prototype version and the developer kit. For the purposes of this review, I bought the developer's kit because if I'm going to drop this level of cash I'm willing to get the most up to date and worthwhile model, the extra features included I'll be going over in great depth since there is something about the F1s that really makes it something special.
Lelo does their very best to consistently cement their position as one of the premier luxury sex toy manufacturers out there, so whatever is going on underneath the hood here is probably worth taking a look at, even if to determine if they really are breaking into new territory.
So, without further delay, here's everything there is to know about the F1s as well as my experience giving it a whirl.
OUR TOP PICK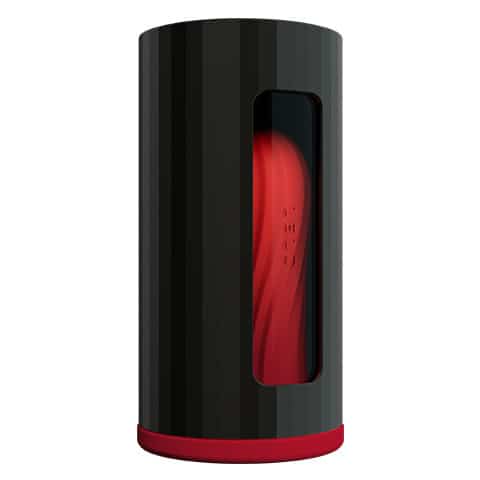 The sonic wave motor makes for a fully three dimensional pleasure profile.
FEATURES:
Sonic vibrations deliver intense stimulation
A completely unique masturbation experience
Get your own
Lelo F1s
and use
DRCLIMAX
code at checkout for an extra 15% off
What Makes The F1s Special?
Lelo's main goal with the F1s is to ramp up pleasure to 11/10 compared to what we're used to in the male masturbator world. The toy itself is 5.6'' long with 4.3'' of insertable space.
This makes it a rather compact option compared to other electric masturbators on the market, but they make up for it with the wide range of features available.
Inside is a red sleeve made from 100% pure body-safe silicone, something that few other toys like this have.
Silicone can be a lot more pleasurable than the usual TPE, plus it is a bit more resilient to harsher soaps but in my opinion the real winning hand that silicone brings is the fact that the sleeve dries practically just as quickly as it takes to wash.
No sitting around letting the sleeve air dry with this baby, something my post-nut clarity appreciates a lot.
As far as sleeve design is concerned, it isn't just a straight-shot silicone tube. There are multiple grooves within the sleeve itself that playfully caress the shaft of the penis in a slightly twisty way, and the way the sleeve's innards work in conjunction with the vibration modes is absolutely wonderful.
There are two motors within this toy, each with a distinct purpose. The first motor concerns itself mainly with standard vibration patterns that most of us have seen before. The second motor however is completely unique to Lelo and uses their SenSonic technology.
In layman's terms, the second motor produces powerful sonic waves that are capable of penetrating deep into the body's tissues for a much more intense type of stimulation than the superficial type offered by vibrations alone.
Also included is their Cruise Control feature, originally perfected in the Lelo Sona Cruise. What this feature means is that whenever the motors are under the kind of stress that normally results in a loss of power, Cruise Control kicks in and brings the motors back to their intended power level. This means there's always a consistent sensation at the power level you chose, there's no need to compensate based on how you use the toy. How is this monitored you ask?
Well, there are 10 sensors dotted around the toy meant to pick up what's going on inside so the toy can adjust accordingly. These sensors also a play a part in how the toy learns and adjusts rhythms and sensations to better get you off, but more on that later.
Both of these motors are placed in such a way that they provide a full 360 degree level of sensation to the penis, every part of the toy feels just as powerful as any other part.
A feature typical to electric toys is that is also present in the F1s is the Bluetooth connectivity. You can sync up your phone & toy to the Lelo app for extremely precise and unique use of both motors.
Functionally, with the app there are infinite vibration & sonic wave patterns available. What Lelo did to make this feature their own is bundle in the developer's SDK. SDK stands for Source Development Kit, and many programs release them when they want their users to have access to the codebase to create their own modifications to how the toy works.
That means you have full creative control over how then 10 sensors within the toy deal with the data they are given and can program this thing to make use of the integrated technology however you please. Bare minimum someone out there will take the time to use the SDK to release "mods" for the F1s that can be set up on your own device, assuming you aren't technologically inclined to play in the SDK yourself.
It is also completely waterproof, whether you're using it in the shower or getting a bit too overzealous in your cleaning, there's zero risk of water damage whatsoever.
As far as battery power goes, it is powered by a standard lithium-ion battery that can be recharged via the included USB cable, however I recommend plugging it into a power cube attached a wall outlet for fastest charging. A two hour charge translates into two hours of use, the 1:1 charge to use ratio is very nice and it having a full two hours of battery life makes it one of the longest lasting electric masturbators available.
What's Included In The Box?
As you can see from the image above, the F1s comes with quite a bit more than the average male masturbator.
Here's everything that's included in the box:
The F1s (obviously)
A bottle of Lelo toy cleaning spray
A pair of red fingerless gloves
A USB charger
A small storage pouch
A do not disturb sign (a very comical addition in my opinion)
The F1s starter guide
A warranty registation card
And finally, the instruction manual
My Experience Using The Lelo F1s Developers Kit
I was really impressed with the level of goodies included with this toy. Besides the toy, sleeve & charger itself, which are pretty standard, Lelo provides a satin storage pouch, a pair of red fingerless gloves, Lelo's toy cleaning spray, and a tongue-in-cheek "Do Not Disturb" sign that definitely won't be getting any actual use.
The gloves aren't half bad all things considered. I might use them while biking since they have a sporty look to them but as far as using them with the toy they can be worthwhile if you get a bit too much lube on the exterior casing and need some grip.
The fact that they're fingerless allows for an easy dollop of lube to be applied to your fingertip and added as needed.
Lube is not included, so make sure to have some on hand before this thing arrives. If you don't the temptation to use it without lube might be too strong and you'll get the wrong idea about this toy. When it comes to male masturbators, lube is essential.
So now comes the time to use this thing. The only thing that Lelo maybe didn't think through was how much insertable room there is in the toy. At 4.6'' of insertable length, most men will actually cap out inside this toy. However, I think they did it like this for a few different reasons:
Firstly, the two motors inside have less surface area to worry about, so all of the toy truly does make use of everything the motors have to offer.
Secondly, the toy weighs just a bit under 300g, so the small size actually makes it extremely easy to handle and lightweight. Arm fatigue is non existent no matter how long my session is, plus my hands never cramp up.
That means for me that I think the small size is intentional, the question is does the included sensations make up for the lack of whole-penis coverage?
In my opinion, absolutely! The simple three button design functions to give full control over the toy even if you don't want to use the app. The outer shell is also made from aluminum as well as ABS, it does not feel cheap or like all of the effort was placed inside of the toy. I think the aluminum housing also helps keep the vibrations strong, but I'm not too sure if that tracks scientifically.
The vibrations are powerful and worthwhile, not unlike any other top of the line automatic male masturbator out there. These vibrations however are kicked up a notch entirely when the sonic pulses come into play.
Never before have any of these toys made my entire penis feel as if it's getting the deep-tissue massage the sonic pulses add. What could be seen as run of the mill vibrations quickly become amplified in power to the point where it isn't always simple to know where the vibration motor ends and the sonic power motor begins. If you want your whole penis to feel like it's full of rainbows and sunshine, it's absolutely killer.
As I play with the toy and look through the viewing port, I can see the toy diligently working to provide my manhood with the kind of stress-relief I thought not possible without the use of strong pharmaceutical drugs.
It's honestly one of the most pleasurable toys I've used in a long time, and I was just starting to get worried I was getting a bit too desensitized to this kind of play.
Using the app really shows the sheer range of possibilities with this toy. I can't get enough of tweaking each individual motor's style and intensity for a new experience each and every time. If only I could last long enough to really compare them all in a single sitting.
I'm also keeping my ear to the ground with regards to what people are doing with the SDK. It is not out of the question that games, new applications, or other previously unseen apps for this toy will be released by third parties to get more and more enjoyment out of this toy. Purely because of the SDK I think that the F1s has a long lifespan ahead of it, Lelo is simply exploiting the fact that if you give your customers the ability to improve your product themselves, they'll often do it for free and share their results with the world.
So, if you want a lightweight & top of the line male masturbator with enough extra features and can deal with the smaller size, it really is a toy that I expect to hear a lot about in the coming months as more and more people figure out how to use the SDK to great effect. It also stands alone as the only automatic male masturbator that includes sonic waves as part of it's pleasurable features, something that I can emphatically state is not a gimmick but an actual innovation.
Where Can You Get One?
The only place you're currently able to purchase the F1s is directly from the official Lelo store.
At the time I'm writing this, they are currently available for pre-order.
However, by the time you're reading this, the product is likely available for purchase.
Use coupon code "DRCLIMAX" for 15% off!
Conclusion
Despite it's small stature, the Lelo F1s really has some serious mettle to it. The sonic wave motor makes for a fully three dimensional pleasure profile while the standard vibration make sure there's still enough friction between sleeve and penis to keep things interesting. The added sex tech features give this toy longevity & utility far beyond its price tag and I'm now on the hunt for anything anyone has made with the SDK, I'll be sure to report back with my findings.
Like I said before, it's pretty difficult to be disappointed with this thing. If they do make a longer version with the motors placed smartly enough while keeping the overall light weight, they might just have a male masturbator that outclasses all other options in each and every category.