If you're thinking about buying the Kiiroo KEON, I wanted to make an all encompassing review that answered all of the possible questions people may have before they purchase.
I decided to buy the Kiiroo KEON myself directly from the Kiiroo website, and score myself a very nice by using a discount link (coupon applied automatically at checkout).

Kiiroo is a brand that I first learned about through their partnership with Fleshlight to create the Launch as well as with their own toy the Kiiroo Onyx.
Earlier this year the Launch was discontinued entirely, leaving no male masturbator on the market that functioned by using a motor to physically move a full sized stroker up and down. The Fleshlight Quickshot Launch was all that was out there to scratch that itch.
Not to sound pompous, but when Angela first told me they got rid of the Launch I knew they weren't just going to leave all of that group of people unserviced (pun very much intended) by not getting a replacement out quick. People had gotten a taste, would Kiiroo leave everyone out to dry?

It turns out they had something even bigger up their sleeve.
REVIEW SUMMARY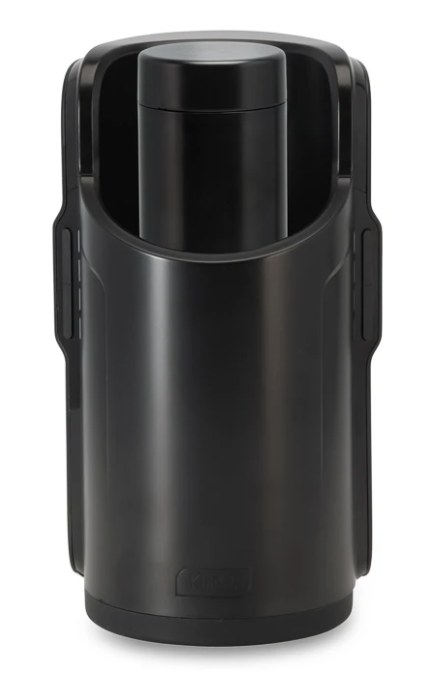 Kiiroo KEON

Everything about the Keon is built to work together.

FEATURES:
Easy to use
Supports Bluetooth connectivity
Delivers real mechanized thrusting
Get a 10% discount using our link
CLAIM YOUR DISCOUNT →

Get your own Kiiroo KEON and get a 10% off using our link
October of this year had just barely started but I found a package on the front door that I wasn't expecting at all. After opening it like an eight year old during his turn at opening Christmas presents (as is tradition), none other than the Kiiroo Keon was staring me smack in the face.

It turns out Kiiroo was kind enough to send us one before the official release date of October 9th, but my loving wife kept this a secret from me because she gets her kicks in twisted ways. Not that it mattered now, my attention became squarely focused on how I could quickest relieve myself of my jeans to perform some science.

This toy had all of the traits I had already come to look forward to with Kiiroo toys: power, ease of use, Bluetooth support, and the only opportunity out there for a toy that delivers real mechanized thrusting.

Looking at a black hunk of plastic can only tell you so much, let's look at what this blowjob machine can really do:
(This link applies a 10% off coupon at checkout!)
What Is The Kiiroo Keon?
From the Fuck Me Silly Mega Masturbators to the Drilldos of the world, what goes into a pleasure product matters down to the very name itself. I enjoy trying to figure out what they were shooting for with Keon. The last generation of their toys all had space or rock/nature themes, yet as far as I can tell it's the Keon because it's not already something and it starts with K. Just like Kiiroo does. Sketchy internet sources pin it as either from the Middle East meaning "king of kings" or an Irish/Hebrew mix meaning "God Is Gracious". My money is on the double K alliteration hypothesis.
As far as dimensions are concerned the Keon is 8.6 inches x 5.1 inches x 5.7 inches all together. The Launch was about 12.75 inches tall and 6 inches around, volume wise the Keon is much more efficient in every way. The Launch was always compared to a regulation size football in size and dimensions, I think even I'm guilty of it.

A great lesson they perhaps learned about the design is that they don't need a giant splashguard style case when the toy already deals with most of the mess. That, and they figured out the Keon should be able to stand on its own unlike the Launch that was prone to rolling away if you put it down without thinking first.

Everything about the Keon is built to work together. Kiiroo's early partnerships with Fleshlight were great for giving us the first generation of truly automatic sex however there are always gaps in communication when you're working with making a sex toy from one company readily compatible with those of another.
Instead of an FL stroker and a Kiiroo machine, they're both Kiiroo.
To a keen eye there's lots to notice, from the fact that the stroker itself doesn't extend past the toy as much to the fact the Keon doesn't pick up as much light as the Launch does.
The easiest way to explain why this ended up making a better toy is by looking at the locking mechanism as well as the new overall process of inserting the toy.
As unnecessary as the red rectangle was for me to add, it's important to really highlight this simple improvement as massively necessary. Earlier toys could be ejected if the wrong combination of excess lube and settings were used on toys that screwed in since it was kind of an afterthought. The RealFeel Stroker on the other hand has tailor made grooves that are shaped to give a nice satisfying click when you know you've inserted it properly.

Once you've heard the click, there's next to no chance you'll be able to make the stroker come loose or jiggle it around despite your best efforts.

Lastly, the toy isn't inserted from the top but instead the bottom. When you're dealing with a freshly lubed up pocket pussy it just ends up being much easier to not make a mess this way in my experience.
The Real Feel Stroker
The Keon comes included with a Real Feel stroker as opposed to compatible with Fleshlight Superskin strokers. For the first time Kiiroo has their own in house blend of silicone & TPE to make their very own sleeve texture. Besides the adjustments made to make it easier to use with an automatic male masturbator the outer case is very similar to that of a Fleshlight.

The texture chosen closely mirrors that of the Stamina Training Unit but it's very clear these bumps were chosen for a reason. Not all sleeves work great in an automatic toy
Power and User Experience
Now what about all the aspects of a toy like this that you can't see just from looking at it, like the actual mechanical performance? Well, I enjoy using real data to help really see the difference so let's take a look at some stats from Kiiroo's last generation of toys and compare them to the Keon.
Kiiroo Onyx Plus
Strokes Per Minute: 140
Weight: ~2 Pounds
Battery Life: 1 Hour
Fleshlight Launch
Strokes Per Minute: 180
Weight: ~5 Pounds
Battery Life: 1 Hour
Kiiroo Keon
Strokes Per Minute: 230
Weight: 2.4 Pounds
Battery Life: 2 Hours
It's about the same weight as the Onyx while delivering nearly a hundred strokes more per minute more and still a full fifty more strokes per minute than the twice as hefty Launch. People have implied to me before they don't put too much weight on strokes per minute when it comes to measuring power since they don't usually have it on max the whole time anyways. I'm here to tell you that the SPM really does matter no matter how hard the motors & gears are working.

The Launch was quite fast, maxing out at a whole three strokes per second when you do the math. Only after using it for a while did I realize the motion of the moving bits on the track would seem to not be at full power during the beginning of any particular stroke. It was obvious that the reversal of the motion ended up being a bit too much at times depending on the settings or amount of battery time left. Since they're discontinued I really enjoy the idea they'll just float around in closets and possibly even on the second hand market as ancient relics in the VR saturated future or something like that since I still have a very legitimate fondness for my Launch.
Each stroke had a bit of pep and smoothness to it that tied all of the individual optimizations together. Once turned on, the Keon is held with the beginning of the hand close to the wrist resting on a small outcrop with the thumbs pointed upwards. This allows for easy cycling of the stroke length & speed settings. Four lights on the left side represent the four different stroke length settings while the right side has four lights that each have two different shades for a total of eight settings as well as pause. Ultimately, to me it just means it's much easier to fine tune your experience and actually have meaningful feedback for how you made it work.

Just about every single rechargeable toy for men has been handicapped at around one hour of use. Women's toys are another story entirely, some go for a whole four or eight hours. Keon's battery life is noticeably longer at a full two hours. The most underrated feature about the charging port will undoubtedly be the fact it takes a regular old micro USB charger instead of some off brand science experiment you'll have to keep track of. If I had to think about it, more drawers in my house probably have a stray micro USB charger than not.
(This discount link automatically applies a 10% off coupon at checkout!)
Bluetooth Connectivity and Interactive Content
Bluetooth functionality has been front and center with Kiiroo for as long as I can remember since all of their toys always start in Bluetooth mode by default. As long as you have a semi modern smartphone you'll have access to the full spectrum of features added. Simply download the Feel Connect app onto your phone and sync the device.
This is where things can get interesting. When I picked up the Kiiroo Titan I was given a month's free access in a little black envelope inside the box that allowed me to have a trial of the interactive content. The Titan wasn't too great with it since it worked on vibrations alone as a manual stroker yet after I used it with better toys before my trial was up I actually ended up keeping my membership. I couldn't believe it at first. Me, paying for porn? Really?
Every single toy I've ever bought that syncs up to interactive content is bottlenecked mainly by how specific they can get with the sensations and how powerful. Toys that are vibration only tend to just deliver a semi accurate intensity in kind of the same places as on screen, while Kiiroo toys tend to be limited by how precisely the toy can follow the action physically. After a few trials with my Keon there's a clear new champion in the world of simulated sex. I often wonder if my fridge will eventually have support for a Kiiroo toy at this point.
All jokes aside, the Bluetooth connectivity also means a much wider range of customization in patterns and settings to experience. I often freefall through the different settings on the app if none of the default settings do it the way they used to.

I really am avoiding one of the biggest draws to the Bluetooth settings and that is the possibility for either synchronization or remote control use. It has already happened where cam girls let certain viewers have a dildo synced to their toy at home for some interesting experiences. As someone with a wife who enjoys some remote intimacy whenever the real thing isn't around I've reaped the benefits of having her get creative with my settings no matter the distance between us.
So in short, Bluetooth is essentially what is making individual toys able to stand out and add a lot more features that only about 12 or so unique configurations across all the settings. Synchronization to music, public events, and a whole lot more that I haven't even started to see the tip of the iceberg on bundled in if you're dedicated enough.
My Overall Opinion Of The Kiiroo Keon
For the sake of brevity I'm going to skip all of the fluff around unboxing the toy besides the fact that I gave it a really good charge out of the box. The port is directly underneath the top of the small long cutout on the back of the toy. I often think I've used too many of these things when my mind immediately went to how clever of a spot that is for making sure it stays free of water.
The cap of the stroker can be kept on during storage by making use of a clip-on cap while the twisting locking mechanism built into the sides secures it all. On the end of the stroker is an end-cap just like those found on the Fleshlight to adjust the suction as well as help clean out the sleeve once it's all said and done.
I ended up spending a lot of time inspecting the material of the sleeve since Kiiroo made a point of explaining it's their in-house blend and not Superskin based. From what I can gather that means it's a different blend of TPE (soft plastics) and silicone. So, no oil based or silicone based lubricants the long term integrity of the toy is expected to be maintained. I always apply a pinch more liberally than my instincts tell me with water based because I feel it gets me a bit more longevity, and may I remind everyone to lube both their equipment as well as the Kiiroo equipment.
Out of the overall pleasure a toy like this can deliver, a lot more of it hinges on the sleeve texture than you'd think. Manually you can make any sleeve deliver a very wide range of actually noticeable sensations, with some less dramatic sleeves ending up feeling kind of samey. Since there are hundreds of individual raised portions able to help increase surface area and kind of carry kinetic energy into the penis this sleeve ends up being exactly what is necessary for a proper automatic male masturbator. Each stroke had meaningful sensation throughout the whole sleeve instead of just around the orifice which is typically a dead giveaway of a less than ideal sleeve.

My biggest tip to anyone having trouble getting the most knee buckling power out of their Keon would be to not underestimate the power of the suction cap at the end. A little extra effort fine tuning it really helps account for the variance in penis size.

Kind of wild how there's just this much effort placed into shooting for the moon when it comes to a sex robot, although I'm just fine with reaping the rewards. I spend a lot less time fumbling around with the stroker than their earlier automatic toys plus there's way less risk of accidental drops with the better ergonomic considerations of the Keon.

Manual mode on any electronic sex toy should be able to stand alone as a full display its capabilities. I can't even count all of times where I don't want to use my phone just to have a wank. The eight setting configuration for speed allows for enough different settings without having too many button presses while the four different stroke length settings have a fantastic range of motion. I haven't figured out a way to accurately measure the full stroke length so my estimation is that it is probably closer to a full six inches of movement than not.
Where's The Best Place To Find One?
The best place to purchase the Kiiroo KEON is directly from the official Kiiroo website.
Not only will you get the best price, you can also rest assured that you're going to receive a genuine Kiiroo product and not some cheap knock off. Believe me, the amount of emails I get from people to buy sex toys from non reputable sources and receive a fake product is simply astonishing.
For this reason, I always recommend buying the toy directly from the manufacturer.
If you use any of the links in this article, you'll actually save 15% off the Kiiroo KEON. All of the links in this post will automatically apply a coupon code at checkout.
Is It The Future Yet?
Again and again I've been told about the future of masturbation. Actually, it's probably been about a decade. First it was about Tenga Eggs since they felt good and were disposable, then Fleshlight really dominated the sphere. Only recently has mechanical sophistication in a sex toy meant more than "vibrates really really good" in the grand scheme of things.
I don't give Kiiroo all of the credit since there's tons of other talented individuals hard at work keeping us not having to work to be hard. Still, the first thing they put in the box is "Welcome To The Future" across some foam for shipping purposes. Besides having a giggle at the sincerity of the sentiment given the context, I really think we're getting there. Acceptance for sex toys for both men & women is rising sharply plus coupled activities are seen as a lot less taboo than they used to be.

Blame HBO or blame parents if you want I suppose, but I, for one, welcome our sex robot overlords.