The purpose of a pocket pussy/male masturbator is pretty much right in the name. They are supposed to be good recreations of a woman's reproductive parts for men to have their way with.
A lot of these toys are just disembodied vaginas with not much else to them, as great as the Fleshlight is, it is more masturbation 2.0 than it is a true substitute for sex. Surely, in this day and age, sex toy technology has more to offer us when it comes to fuck toys.
Unless you're the type to put their male masturbator between the couch cushions and have at it, you're not really replicating sex.
That's where the Fuck Me Silly Bubble Butt comes in. Made by Pipedream Extreme, its a serious upgrade from the Fuck Me Silly Mega Masturbator.
Where the FMSMM boasted over 20 pounds of pussy and ass, the Fuck Me Silly Bubble Butt takes things further by delivering over 32 pounds of pussy and ass. For those who like mathematics, that's a 60% increase in pussy and ass.
Instead of just the vagina, it's the entirety of a woman's midsection from the bottom of the chest all the way down to the thighs in a convenient doggystyle position, but you're truly only limited by your creativity when it comes to how you choose to get down.
I was interested, to say the least. The feeling of smacking & riding ass is sorely missed when you lack a partner to help you out.
At the end of the day, I was thoroughly impressed.
REVIEW SUMMARY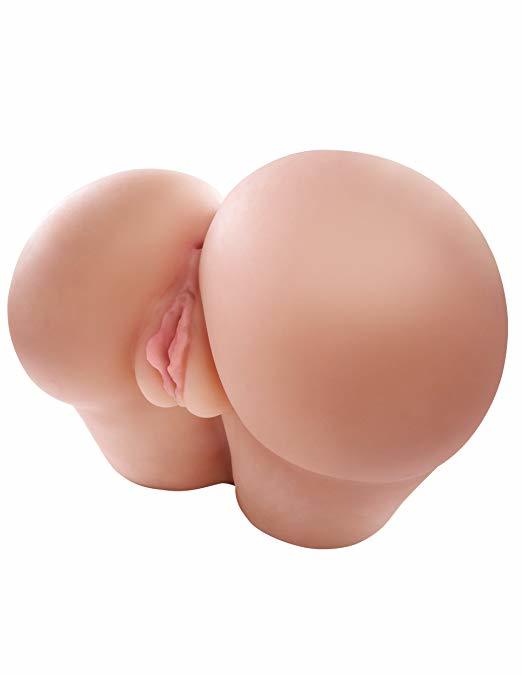 Fuck Me Silly Bubble Butt
The entire experience is extremely well thought out and the sensations are bar-none.
FEATURES:
Made from proprietary Fanta Flesh
Weighs over 32 pounds
Bouncy and slappable butt
VIEW ON AMAZON →
What Is This Thing?
What we have here is a completely true to life recreation of a female's midsection, and I'll be the first to tell you she's never missed a squat workout in her life.
Over 32 pounds of pussy and ass are in the box and I had a feeling very similar to the eagerness I felt the first few times I had sex while I was taking it out of the box. The main visual differences between this and the Fuck Me Silly Mega Masturbator is that there are some serious cheeks to be clapped.
It's made from proprietary Fanta Flesh which is a blend of TPE not entirely different from that of Fleshlight's Superskin, but I'd say it has a much more lifelike feel inside & out.
This adds all of the fun of a bouncy, slappable ass to what would typically just be a routine bleed-off of some excess sexual energy.
How Does It Feel?
This has got to be one of the more interesting toys I've ever seen, a lot of these types of toys really miss the mark for a few different reasons. First off, if you're going to try and sell me on picking up a toy meant to only represent a small portion of the human body, you better select which parts you are going to represent carefully. I've seen some toys that are an ass with breasts attached to the other side or other toys that have a weird sense of scale that makes me feel like I'm having sex with some kind of genetic anomaly.
The silky smooth skin and the jiggle that just can't be beat is what makes this thing such a distraction whenever I know it's accessible. When I'm bored I am absolutely not ashamed to say that I've set it down on the table and smacked the ass around for fun. The crack of my open palm hitting the cheeks and the few seconds of aftershock as the toy wiggles around is entrancing to say the least.
12 inches tall, 15 inches wide, and deeper than you'll ever need, it's quite literally the definition of a good time. Both the vagina and the anus are up on offer and they're both ribbed slightly differently so there's more to it than just two holes. It's weighty enough to not run away from you if you're pounding it senselessly doggystyle, if you're worried about that there's more than enough to grab on to anyways.
I'm blown away by how the vagina and anal canals feel. On top of it all, the anal canal is just the right amount tighter than the vagina canal, I've gotten pretty creative when it comes to finding new positions. Laying on my back and actually being able to feel the weight of this thing coming down on me is something that no other toy is able to deliver.
It also gets me how well they got the proportions. It's extremely true to life, the toy can twerk and it's the perfect amount of fake woman without anything that makes it weird and takes you out of the zone. I've put my arms around the waist, closed my eyes, and really went to town more times than I can count.
Design
Besides what you can see from the pictures, there's a bit more going on than you'd expect under the hood. Both of the insertable holes are connected. When it comes time to clean, its just a matter of flushing water through either of the holes and waiting for it to come out the other end.
The part of the toy that's the belly/midsection has a foam core inside of it that gives it stability while in use, it's not a solid chunk of Fanta Flesh. There's a whole in the front of this part that functions as a way for air to escape from the toy when in use. Never, ever allow water to enter this hole as it will wreak havoc on this inner foam core. I personally put a little bit of tape over it whenever I want to give it a really good clean just to play it safe, but you can flush out the usable holes pretty easily if you're just careful about this fact ahead of time.
A little bit of lube goes a long way, and it even comes with a little bit to get you started so you won't have to make a trip to the drug store while it waits longingly for your return.
Cleaning & Maintenance
As I mentioned earlier, giving it a good clean is extremely easy and there really isn't much to worry about, since the canals are interconnected in a U shape all of the water you put in one end will eventually run out the other. There's no grunting and groaning with added regret for choosing to finish inside of the toy, and I really appreciate that fact. Not that I haven't given the two cheeks their own paintjob once or twice, though.
What also makes this toy a cut above the rest is that they've included some products of their own for maintenance and cleaning, which most toy manufacturers will have you pay for, so I applaud Pipedream for giving a crap about their customers. There's the Revive Toy cleaner which is an upgrade over just water, if you end up using soap make sure it is as gentle as possible so you don't cause any damage to the Fanta Flesh.
To keep the skin supple and all of the orifices working like new, they also include some Revive Powder. It's essentially just cornstarch, but it keeps the skin looking and feeling brand new and it also has the benefit of soaking up any excess moisture. After I wash the toy out and dry it off a little bit with a hand towel, I always make sure to put a little bit of the Revive Powder inside to soak up any moisture trapped in the harder to reach areas, which I'm sure prolongs the lifespan significantly and reduces the gross out factor to 0%.
How Much Bigger Is It Than The Original?
Many people reading may not know that the Fuck Me Silly Bubble Butt is actually the predecessor of the popular Fuck Me Silly Mega Masturbator, which has been around for years and was even popularized as a meme.
The original Fuck Me Silly weighs in at just over 20 pounds (and is marketed as "over 20 pounds of pussy and ass") while the Bubble Butt version weighs in at a whopping 32 pounds.
Here is a side by side comparison of the two that illustrates the size difference between the two models:
Do I Recommend It?
My recommendation? Well, if all sex toys were the same price and easy to store, this would be the only sex toy I recommend. There's simply nothing else I've found that gets me going quite like the Bubble Butt, and it's a completely different experience than the other toys I've used.
It's actually completely analogous to real sex (well, as best as it can be) and I break it out to relieve sexual tension more than I'd like to say. The weight, plush feel of the cheeks, and just the whole experience can't be beat. I could honestly almost go on forever.
Where Can You Get One?
I purchased my Fuck Me Silly Bubble Butt on Amazon since Pipedream Products has their own Amazon store so I suppose Amazon deals with all of their shipping.
They don't sell their products through their website and instead opted to sell their products on Amazon, just make sure you buy it through the companies listing, which I've linked below.
Parting Words
Just when I thought the Fuck Me Silly Mega Masturbator was the height of replica sex short of a prohibitively expensive sex doll, I get thrown for a loop with the Fuck Me Silly Bubble Butt. The entire experience is extremely well thought out and the sensations are bar-none. I swear I end up having a much more explosive finish just because I got to have something resembling sex with actual thrusting as opposed to just using my hand to bring something back and forth over my junk.
Truly, we are living in the greatest timeline.
If you have any questions at all regarding this product, don't hesitate to comment down below.
Now if you'll excuse me... I have business to attend to (which the following image should explain).