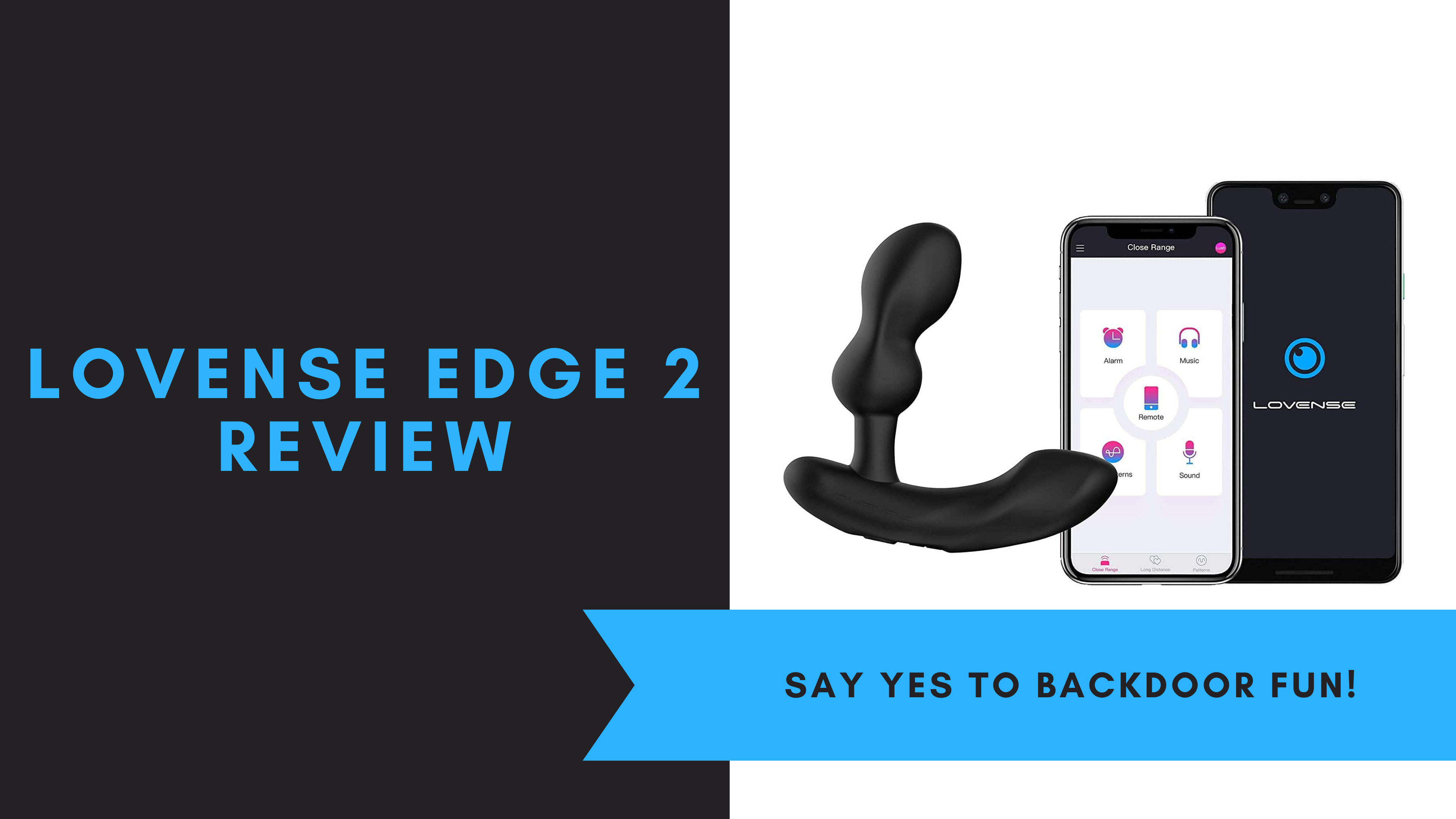 Lovense Edge 2 Review
Written by: Don Watson | Updated: April 15, 2021
Hey guys, it's Don again, coming at you with another review of a product. I received the Lovense Edge 2 the other day and decided I'd finally take it for a spin and try it out.
The Lovense Edge 2 is supposed to be a direct improvement over the original edge and comes with more durability and functionality.
For those of you who aren't sure what the Lovense Edge 2 is, it is considered to be one of the premium prostate massagers on the market for men. I love a good amount of pleasure, especially on the P-spot so I'm definitely looking forward to trying this one out for you guys.
Before I jump into things, I want to talk about the overall specifics and design of the Lovense Edge 2 so you have an idea about what you are getting in this prostate massager. Without further ado, I bring to you the Lovense Edge 2
Specs and Design
Unboxing
The first thing to talk about is what you are getting with the Lovense Edge 2. Opening the box up, you're obviously going to be getting the toy, along with a manual explaining how to take advantage of everything it has to offer, and a USB cable that you can use to charge the toy.
The people at Lovense are nice enough to include a nice little storage bag as well to help keep the Edge 2 concealed and clean.
---
Materials
Like all Lovense products, the Lovense Edge 2 was made of a completely body-safe silicone that I must say looks rather sleek.
Despite it having a motor, the Lovense Edge 2 is also completely waterproof, making it extremely easy to clean and also makes it so you can have some fun in the shower.
---
Dimensions
The Lovense Edge 2 has an insertable length of 3.59 inches and the width of the bulb that goes into the anus is 1.38 inches.
This toy is absolutely fantastic for experienced users and most beginners should have no problem with it either. I do say most beginners as it is larger than most beginner prostate massagers, however I don't think it should make too much of a deal.
---
Battery
With the Lovense Edge 2, they have worked hard to improve their battery in regards to its life. You can now get about 2.5 - 3 hours of continuous usage with this thing inside of you vibrating.
I love that I don't have to really worry about running out of juice during an intense session of pleasure with myself or my wife. I always remember to charge it up after use and never run into an issue with it at all.
---
Settings
Like most Lovense sex toys, the Lovense Edge 2 comes with a manual mode, Bluetooth mode, and remote play mode for you to experiment around with. There are several different presets built into the Edge itself that you can play around with.
My personal favorite thing to do however is download the Lovense Remote App for my smartphone and control it from there.
There are plenty of different settings in the app and you have complete control over how much the perineum arm or the prostate arm vibrates. There are a few other settings to check out within the app and overall make it a great experience.
When connected to the Internet, this toy can be controlled by anyone around the world as long as you give them access to it. If me and Angela are apart and I still want to have some intimate time with her, I can have her connect to the Lovense Remote App and send shivers down my spine.
---
Functionality
One of the last things I want to talk about with the Lovense Edge 2 is how you can use it to obtain some of the best orgasms ever. Lovense has put a lot of effort in the toy towards making both the perineum and prostate arms extremely flexible, meaning you get right to the P-spot and ensure you are getting the best massage every time.
Lovense recommends using lube when inserting the Lovense Edge 2 and I completely agree with them as well. Be liberal with it, especially if you are new to something like this. I've been doing this for a while so for me it's no big deal, but if you are new to prostate massagers, you don't want the experience to be ruined by the pain.
The last thing to talk about in regards to functionality is the motor on this thing. Lovense has included one of the most powerful and largest motors into their toy. This is to help ensure you are getting some of the most pleasurable massages out there.
Enough talking about the design now, it's time to talk about my experience with the Lovense Edge 2 and let you know how much I enjoyed the ride.
Most Prostate Massagers High-end prostate massagers Edge 2 by Lovense
---
My Experience
Inserting the Lovense Edge 2 was fairly simple and the flexibility of the two arms really came in handy for ensuring I was getting the right spots. It can be a little difficult to maneuver once it's inside of you, but I view that as a good thing, as that means I don't have to worry about it slipping or moving around once it's in there.
When using the Lovense Edge 2, the first thing I decided to do was try out the manual mode. Low and medium power were as expected, but let me tell you, I was not ready for the power that the high setting yielded.
Because the arms are so flexible on the toy, I was able to get it perfectly onto my P-spot and man did it feel good. Lovense isn't kidding when they talk about using one of the most powerful motors out there and it caught me completely off guard.
I had to get myself to focus after that intense power so I could finish this review up for all of you. Trying out the settings on the app, they were similar to any of the other Lovense toys that could be connected. I always love how you can control how strong each arm is and I do enjoy that you can create your own custom presets on the Lovense Edge 2 as well.
Moving on to one of the best features with Lovense toys, I decided to try out some of the remote play with Angela. The original Edge had a few connectivity issues and I was expecting similar results, however things were much better. The Lovense Edge 2 does come with a much better antenna built in, but I still wasn't expecting it to be as responsive as it was.
The remote play on any toy will always be a favorite as I don't know what to expect, especially when Angela is controlling it for me. The powerful motor was bringing me to my knees and I was screaming out in pleasure from everything that it had to offer. Overall, I have to say that I had a fantastic time with the Lovense Edge 2.
Once I was finished up with it, I gave it a nice complete scrub in some soap and water and put it back into its bag ready to be used again in the future.
Final Thoughts
If you're looking for a premium prostate massager that is going to achieve everything you want and more, I might have found it for you in the Lovense Edge 2. The one downside to the Edge is its high cost, but that's to be expected with a motor that powerful.
Lovense does a great job with all of their products and prioritizes comfort above all else. From start to finishing, this toy was great to use and the flexibility of the arms to find the P-spot really helped me have one of the biggest orgasms I have had in a while.