For those looking for the Helix Syn, it appears that Aneros has completely discontinued the Helix Syn in favor of this one. Their website does not reflect this change so it can be misleading, now only the Syn Trident is available. Luckily, they're nearly the same product with only minor changes to the handle being the difference.
As much as I have learned to love prostate massagers, they all tend to lack in one department or another. Between all of the fancy vibration patterns and things like app support, comfort has taken a back seat in favor of a lot of features that are nice and all, but ultimately I'm a big fan of ergonomics.
So this got me looking at the Aneros Helix Syn Trident, as it seemed to be a simple prostate massager with comfort being the main draw.
You see, when I first started to use these toys I was mostly focused with the level of comfort offered by the main shaft of the toy. Things like how wide the toy was overall and how far it extended into my keister were at the forefront of my mind.
Over time, I've learned that how well the base of the toy sits around the sphincter is another point that needs to be considered.
The skinny base and plush silicone appealed to me, as there are times where I enjoy wearing a prostate massager for extended periods of time.
What can I say, I like what I like.
REVIEW SUMMARY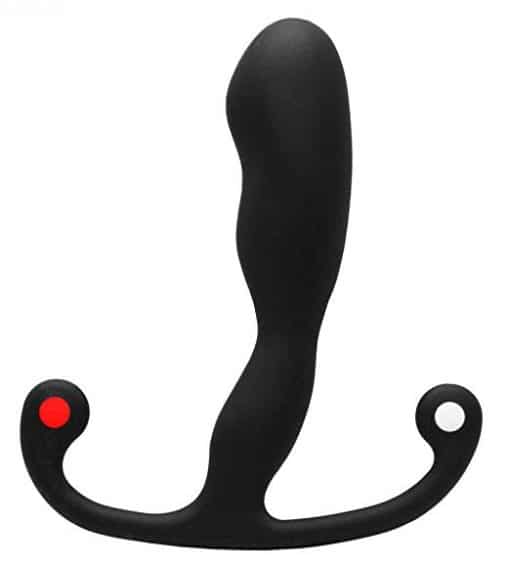 Aneros Helix Syn Trident
Aneros Helix Syn Trident is a seriously powerful toy perfectly cast for some raunchy prostate fun.
FEATURES:
4'' Length
1.08'' Diameter
Silicone
Get Aneros Helix Syn Trident and use DRCLIMAX code at checkout for an extra 10% off
CLAIM YOUR DISCOUNT →
Get your own Aneros Helix Syn Trident and use code DRCLIMAX at checkout for a 10% discount
Design & Specs
Everything is pretty standard as far as general materials go, you've got a body-safe silicone exterior that eventually gives way to a handle that's silicone as well. The U-shaped handle is meant to stimulate the perineum area as well as make a comfortable handle with which to move the toy around inside of you.
Coming in with four inches of insertable length, this prostate massager that's one inch in diameter is ergonomically curved in a way that hugs the prostate gland nicely. The stem and base are extremely small and subtle, it has enough of a base to keep the toy safe but not so much that you have half a pound or more of dead weight hanging out of your bottom. It's hard to tell looking at pictures alone, but it's the smallest prostate massager that actually tries to be as ergonomic and as effectively designed as some of the other high-end options.
Finally. A prostate massager that is both properly well thought out but not absolutely massive.
There's two main factors that go into the main body of the Helix Syn Trident. There's a solid inner tube for the frame but a large amount of pliable and squishy silicone surrounding it, giving it the rigidity necessary to get the job done but the plushness to make it worthwhile but still enough give to make sure there are no unhappy accidents.
Battery life and motor quality aren't an issue with this toy, because there isn't a motor to speak of. The small size is meant for your movements while the toy is inserted to
It's waterproof on top of it all. It is advertised as being completely submersible, but I've only gone as far as using it in the shower. Come to think of it, I haven't taken a bath in forever.
What I Think Of It After Using It
At first place, it's a pretty cute looking guy. If the idea of massive butt plugs and prostate massagers turns you off, the Trident is a very approachable toy. Aneros apparently used to be a medical supply company, now they've figured out a way to use up all of that leftover silicone it seems.
Aneros was gracious enough to add some lubricant in the box for me to use, so I got down to business right away as soon as I got it. Laying on my side, it was a pretty straightforward and easy insertion process.
I think their knowledge of human biology is excellently shown off with the Helix Syn Trident. Most of the prostate massagers I've used that actually have things that someone would want in a prostate massager tend to be on the bigger side. I guess the assumption is that if you're willing to splurge on a toy that goes up your butt, you're the kind of person who's been around enough to want to bring out the big guns.
But honestly, bigger isn't always better. I find the Helix Syn Trident to be perfectly shaped and sized for getting in some prostate fun without having to use half a bottle of lube and take ten minutes gently inserting the thing. So the small size was pretty great.
One thing I will mention though is that because of this you'll need to explore a little more than you might have to with a bigger toy. It's long enough at four inches, the prostate is typically within 2-3 inches of the beginning of the anus so unless you are a medical anomaly you'll be fine on that front.
Where you might have to do some spelunking is in how narrow the toy is. I've noticed that it takes a little bit of searching and moving the toy around once inserted to properly get the most out of it. So always remember to insert it with the button facing towards the front of your body, and grip the stem tightly when moving it around.
Slow, slight motions are your friend here. Some external wiggling about and using your kegel muscles might be necessary if you aren't well acquainted with your prostate and anal cavity.
There's plushness to the silicone unlike most other toys, but the rigid middle rod makes sure that the toy has enough "oomph" to it that it doesn't feel like I'm struggling during any point of the session. It conforms and moves along with my subtle contractions, and it's also expertly shaped to track down my prostate gland. Awesome! I think over time it's been slightly molded to fit my anatomy a bit better, that's another benefit of the squishy exterior.
Next comes the base. It's the smallest and least intrusive base possible, the handle is more like a silicone/plastic string than a dedicated handle, and the stem is really tiny. It's perfect for extended wearing and people who are a bit more sensitive.
Hands down, this is the most comfortable prostate massager I've ever used. I really wish they included motorized vibrations though, it's the one place this toy is lacking.
I'd highly recommend you read what other customers had to say about this product by reading verified customer reviews at Aneros.
Where Can You Get One?
The best place to get the Helix Syn Trident is directly from the official Aneros website.
They offer the most competitive prices on all of their products and have a huge line-up of toys. The sheer variety of different prostate massagers on offer is impressive, to say the least.
Nothing wrong with there being too many options, though. It's just a matter of sifting through what you like and what you don't until you find your perfect fit.
You can use coupon code "DRCLIMAX" for 10% off site-wide. Click here to redeem!
My Parting Words
Terrible puns aside, it's a toy that I'm happy is on the market. If you want to give prostate massagers a shot without having to commit tons of money to a giant, intimidating toy, then this is an awesome choice. However, the lack of vibrations means that you should take a look at our guide to kegels before going all the way with this toy. Both manual movement of the toy by the stem and some internal coaxing will be necessary to get the most out of this toy, it might seem underwhelming otherwise.
As much as I talk up the toy for how great it is for beginners, it also ticks all of the boxes that those who are more seasoned in butt play are looking for. Body-safe materials, ergonomic and biologically well-thought out shape & design, it makes up for the lack of motorized vibrations in my book.
Hats off to you Aneros, it's not every day a prostate massager gives me this much to say.
If you have any questions about this toy, you should check out the Aneros Discussion Boards. There you'll be able to ask questions and get feedback from hundreds of active Aneros fans. It speaks volumes about their brand in my opinion that they have such a dedicated community of fans.
If you'd like to learn more about the other prostate massagers offered by Aneros, be sure to read my in-depth Aneros buyers guide.
Got any questions or comments? Leave them down below and I'll answer as soon as I can. Typically I check comments once a day.